The connections of Kiwi rock'n'roll legend the late Graham Brazier have called on another Kiwi legend – creative director Andy Lish – to help design the launch of Brazier's upcoming last album Left Turn at Midnight.
In fact, NZ advertising luminaries feature prominently in the posthumous album project, which features songs recorded by Brazier in the months before his death.
Lish, Biggs, Addis, Energi
Apart from Lish's creative oversight, Assignment ceo Peter Biggs has invested in the production, Energi Advertising (ceo Louise Henderson) crafted design & finished art, and entrepreneurial adman Kelly Addis put the entire project together.
---
Phantom Billstickers will play a leading role – with posters developed by Andy Lish – in taking the message to Kiwi music lovers.
The album will (appropriately) be launched at one of NZ's sole surviving rock'n'roll pubs, the King's Arms in Newton, next month. It was produced by Alan Janssen, another legend – his studio work includes albums for Shona Lang, OMC, Nathan Haines – and Hello Sailor (2006's When Your Lights are Out).
This will be the singer-songwriter's 4th solo album (after Inside out, Brazier, and East Of Eden).
Genius
"I think the Left Turn at Midnight project is a lovely concept with typical Lishy genius stamped all over it," Addis told M+AD.
"He met Graham weeks before he died and has worked with us developing concepts for advertising and the album cover and in typical Lishy style had some bloody good ideas for the sound production that we all listened to as well.
---
"Peter Biggs from Assignment Group has contributed a significant amount of money into the production of the album and didn't hesitate in being involved right from the start about four years ago. I believe his exact words were 'Kia Kaha – where do I sign?
---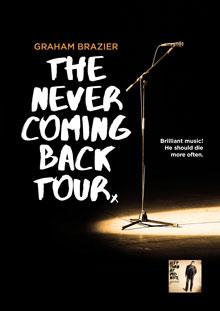 "Louise Henderson and Energi Advertising have developed all of the design and finished art and worked selflessly and tirelessly with media and music companies to make sure all elements have been delivered on time and to the highest standard. Me? I'm simply the executive producer.
Kings Arms
"We are launching the album at the Kings Arms with a launch party that will be remembered for years. Peter 'Rooda' Warren is pulling together an amazing all-stars band fronted by various icons in the NZ music industry.
"Alan Jansson will introduce some of the key tracks and give us the story behind each track and insights into the music. Once we have introduced the new album, we will then invite friends and NZ artists to perform Graham's songs live on stage – and you never know just who will be performing on the day.
"This is a celebration of Graham's music past and new and a kickstart of the new album. It's also a celebration of New Zealand music in general.
Ad world invite
"The advertising industry has been a huge force behind this album so far and we'd love to see them at the party as a huge force on the day."
Where, when, how much
Kings Arms, 59 France St, Newton, Auckland
Sunday 7 May, 3pm-10pm
Tickets are available here. Admission ($20) will only be granted to those people who have pre-purchased an album, and album sales will be available at the door if the event isn't sold out prior.
---