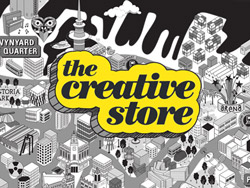 Here's an opportunity for you to bring your creative smarts to this small central Auckland city integrated agency. You will join this reputable agency as a formidable intermediate level Art Director, in tune with customer needs and ready to produce top work across all channels, specialising in social.
You will have an excellent portfolio of work to show. You will have integrated experience, proven skills in digital, campaign, experiential and brand.
Joining 2 other senior creative teams, you will enjoy lots of mentorship, with a direct report to the ECD – who is hands on and teaches and mentors the teams directly.
If you are looking to learn from one of the best – this is it!
Send your CV and work to Hana Chadwick at The Creative Store, email hana@thecreativestore.co.nz, or call The Creative Store on (09) 365 1077 for more details.
Visit The Creative Store website www.thecreativestore.co.nz to view all our jobs online.