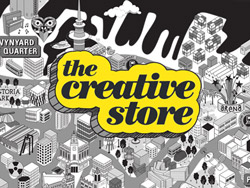 This architectural, Auckland based company creates and informs the wider architectural community about innovations and builds through their content rich website. They are looking for a passionate and driven brand manager to bring their vision to a wider audience. 
With 4+ years' experience and a relevant degree, you will have proven experience creating and growing brand awareness, using a range of channels. An understanding of digital platforms, online businesses and content driven marketing is preferred. 
You will be ambitious, curious and passionate with a customer centric approach. An interest in design and / or architecture is a bonus. 
This is a business in a growth phase, with Trans-Tasman ambitions. Come and make your mark in the design world. 
Send your CV to Ginnaya Turner at The Creative Store, email Ginnaya@thecreativestore.co.nz, or call The Creative Store on (09) 365 1077 for more details. Ref: 24813.
Visit The Creative Store website www.thecreativestore.co.nz to view all our jobs online.