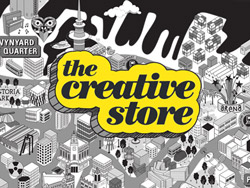 Our client is a highly regarded agency group with international affiliation. Located in the heart of Auckland city, with a focus across creative, media and data, they are looking for a Strategy Director who can develop high level strategic thinking across multi-disciplines, with a focus on brand strategy and consumer insights. 
As a Strategy Director, you will be responsible for the ongoing strategic output for your clients. Most of the work will be in the form of guiding clients' strategic marketing needs, developing responses to client briefs, and working closely with creative teams to produce award-winning work – however there is an expectation for bigger picture thinking that will all help to raise the bar of our current and potential clients' marketing and communication strategies.
Role Responsibilities:
High level strategic planning capability with a focus on brand positioning, brand transformation strategy and campaign strategy
Serves as a lead team member with ultimate responsibility for the quality of the strategic and creative products the team produces
Takes, challenges, deconstructs, and focuses client briefs
Crafts strong, interesting, thought-provoking creative briefs and works tightly alongside creative teams
Has a strong mastery of both qualitative and quantitative research, can develop research proposals and oversee research projects
Develop and sell insight-led solutions through clever storytelling
Gather and identify actionable consumer insights and trends using a broad range of sources
Acts as a strong client and creative partner to drive the brand and business mission forward
Delivers proactive thought leadership to clients
Leads/inputs into new business pitching
Build relationships with key clients to identify opportunities for growth
Write and develop award entries
Plan and run internal and external workshops
Demonstrates and fosters a collaborative work environment in which ideas flourish
Qualifications/Attributes:
Broad, lateral thinking
Ability to write powerful insights and clear, concise presentations
Passion for the communications industry
A curiosity for understanding people and human behaviour
To enjoy working as part of a team
Strong communication and presentation skills
Confidence to challenge in a constructive manner
Ability to work autonomously
Effective time management
Ability to manage and mentor people
This is a team that is pursuing growth and building creative reputation – making this an exciting time to join the business. If this sounds like your perfect next step – register your interest now. 
Send your CV to Ginnaya Turner at The Creative Store, email Ginnaya@thecreativestore.co.nz, or call The Creative Store on (09) 365 1077 for more details.