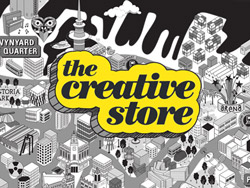 Would you like to work with a booming, independent Auckland advertising agency, who specialise in the property sector?
Many of their clients are in the urban regeneration space, creating more homes and better neighbourhoods throughout Auckland. This role is about helping them communicate with their communities, delivery partners and other stakeholders. 
The Role
This role is about helping their clients communicate with their communities in a wide variety of channels. Being a clear written and verbal communicator who can turn out error-free work quickly and efficiently is essential. You will also need to understand brands and create work that is not only on brand but helps strengthen it.
You will have the support of a client service team but will also communicate directly with the client on a daily basis, taking briefs and managing amendments to copy and artwork. You will both write content yourself and edit writing supplied by the client. You'll brief and manage graphic designers, photographers and any other internal or external resources required to produce the work.
You will be producing content for print, video, online, social channels and events. Your work will appear across a broad range of media, including EDMs, Facebook and LinkedIn, in videos, websites, newsletters, posters, magazines, flyers, billboards, banners and lightboxes.
In addition to being the lead writer and overseeing creative production for this 'BAU' programme of work, there will be opportunities to work on websites, social campaigns and other more marketing-driven projects.
Responsibilities include:
Write/edit community comms
Brief and manage content through the design process
Proofing and sub-editing
Manage amends
Research and write blog pieces
Writing for social media
Writing business documents
Expectations include:
Produce written content to a high standard
Quality control guardian for your own and other's work
Day-to-day client liaison
Read, study, and get to know our clients' businesses well
Manage multiple projects simultaneously
Keep (often daily) deadlines
Sound like the perfect blended role for you – apply now.
Send your CV and work to Hana Chadwick at The Creative Store, email hana@thecreativestore.co.nz, or call The Creative Store on (09) 365 1077 for more details.
Visit The Creative Store website www.thecreativestore.co.nz to view all our jobs online.