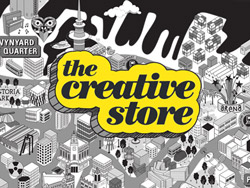 Are you a senior level copywriter – experienced writing across social media, and advertising – full of ideas and keen to lead this well-respected recruitment marketing company, where you will be  based out of Auckland or Wellington?
You can think conceptually and then bring that idea to life through copy. You will be working alongside another creative who would take the idea and develop visuals. Our client is looking for someone who can lead and inspire their planners and the wider creative team .  You can challenge the status quo and bring a fresh perspective to the agency. There are not any direct reports – leadership is  through mentoring and growing the team through ideas.
You will be an excellent idea generator and love being a creative contributor. You will love working in a highly creative and busy environment, and any prior experience with recruitment marketing would be ideal, although not necessary.
With 5+ years' experience – you will have a brilliant site of work that will showcase your creative thinking, ideas, excellent grammar, and attention to detail.
If this sounds like the perfect opportunity for you – apply now.
Send your cv and work to Hana Chadwick at The Creative Store – Hana@thecreativestore.co.nz, or call Hana at The Creative Store on (09) 365 1077 for more details.
Reference #28903
Visit The Creative Store website www.thecreativestore.co.nz to view all our jobs online.