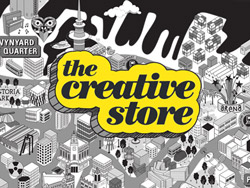 Our client is looking for a senior level experienced creative copywriter to join their advertising team in Christchurch.
You will have specific experience in the brand space – be adept at writing brand ideas and messaging for clients, crafting brand stories and developing the tone of voice for brand development and campaign work across a range of clients.
You will join the team of 40+ with 10 creatives, including another senior and a junior copywriter – plenty of creative mentoring and collaboration is on offer.
If you are a Creative Director or a senior level Copywriter looking to move up a level within an agency environment – this role will offer you the potential to take onboard leadership tasks and grow the creative offering.
This is a new role that reflects the success and buoyancy of this super busy agency.
If you are in Christchurch, the South Island or the North Island, and keen to relocate get in touch.
Send your CV and work to Hana Chadwick at The Creative Store, email hana@thecreativestore.co.nz, or call The Creative Store on (09) 365 1077 for more details. Ref: 26255.
Visit The Creative Store website www.thecreativestore.co.nz to view all our jobs online.