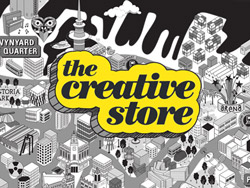 Our client is looking for a Creative Director to join this independent agency. This is a digitally led creative agency based in Auckland, founded by a London studio. Their very essence is to shape shift – to adapt and evolve, collaborating with brands that challenge and endlessly inspire them. They transform challenges of all shapes and sizes into inventive, engaging and performance driven solutions. Every project is a unique opportunity to lead the industry and deliver ground-breaking results.
They are looking for a talented, enthusiastic, hardworking individual who will work closely with them to establish and grow their New Zealand presence. As the team's Creative Director (Design) you will
be working super closely with the General Manager and Technical Director to help lead the agency
in Auckland.
You will have an awesome opportunity to contribute to the growth of the agency as a whole and build on the Creative and Design teams success, while leading the agency's output from a creative point of view.
Your Skills
Unquestionable digital design skills
Flawless written and spoken English
Strong mentorship and leadership skills
Remarkable communication with clients as well as all team members
Can present ideas in a clear, exciting and engaging way
Expert knowledge of industry tools
Solid business sense and knowledge of the NZ industry
Ability to stay calm and prioritise in times of tight deadlines and conflicting demands
Clued up in the latest tech, best practices and emerging trends
Your Credentials
6+ years of experience in a Creative & Design role within an agency or equivalent with at least 3 years at a Senior+ level
A university degree in a related field. While this is not everything, it at the very least shows your ability to commit and complete a challenge
Vast experience across agency or in house marketing environments. Preferably both
Have experience designing for digital campaigns and web builds with an excellent understanding of the technical possibilities and the outer limits of digital production
Have experience working in a full-service agency environment
Your Approach
Collaborative
Transparent & honest
Endless initiative
Excited about the projects (and life in general)
Fun to work with and be around
Assertive where needed.
Motivated by achieving amazing results
The Bonus Bits
Keeping you happy and healthy, your package includes a range of perks and benefits both inside and outside the studio
They all about being at the top of our game, welcoming and supporting training and up-skilling opportunities that are of interest
Regular check-ins, a support system of 1:1s, mentorship and personal development plans are a central part of your life
The HQ is a truly beautiful creative workspace, every detail designed for creativity and collaboration – including collaborative work areas, presentation space, showers, a bar & table tennis
They offer flexible working hours and the opportunity for work from home days for staff who keep their timesheets in check

 

They have a regular social calendar with events and lunches happening at least fortnightly
Keeping you fuelled throughout the day, you will enjoy a kitchen and bar area packed with free snacks, treats, drinks, beverages, coffee (via a very nice pro coffee machine) and breakfast foods
To enable you to do your very best work, we invest in the best of the best for each of our team members. Apple hardware, the latest software, Herman Miller chairs, sit-stand desks & high-end screens are standard here
This client is constantly evolving, and they love supporting new ideas and concepts within the team
The brand is their playground – they are known for dropping merch collections featuring their very own mascot that you'll be able to pick from for free
They end the week by taking a break from the screens and spending time sharing what they have been up to as a team – whether that's the incredible work you have been doing or even your recent holiday snaps. It is an amazing way to share knowledge and learnings as a team, and have some fun while we are at it
If you are keen to be part of a team where creative and tech collide, we would love to hear from you.
Send your CV and work to Hana Chadwick at The Creative Store, email Hana@thecreativestore.co.nz or call The Creative Store on (09) 365 1077 for more details.
Visit The Creative Store website www.thecreativestore.co.nz to view all our jobs online.