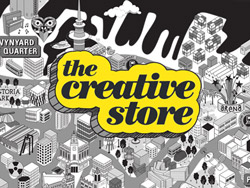 A rare opportunity has come up for a junior Creative Team or an intermediate level creative, skilled at concept ideation and copywriting, to join this amazing integrated agency specialising in motion.
This is an award-winning small studio of 15 smart operators, who are transforming the advertising world of moving image with unique and compelling campaigns.
You will have the prior ad agency experience, with some impressive work behind you; or perhaps you are just starting out on your creative journey and keen to leave your mark, and come with compelling creative ideation skills.
You will have a great energy and be a team player, ready to muck in and gain top results. This is a fulltime position based off K 'Road, Auckland, offering a fun environment and a dynamic team.
If you are looking for a creative role to kick start your career – this is the one for you.
Send your CV and work to Hana Chadwick at The Creative Store, email hana@thecreativestore.co.nz, or call The Creative Store on (09) 365 1077 for more details. Reference #28371.
Visit The Creative Store website www.thecreativestore.co.nz to view all our jobs online.