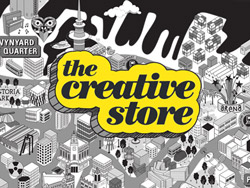 Are you an ambitious Design Director? Our client is an agency that builds brands and experiences that clients love.  They are looking for a Design Director to grow this team, and continue to successfully connect clients to brands across events, sponsorships and the experiential space.
You are an energetic designer who will confidently lead this in-house design team.  Owning and shaping the creative process, while creating beautiful and inspiring work that you and your team can be truly proud of. Working alongside the CAD designer, and a unique aspect of this position – offering something outside the traditional realms of graphic work. 
The nature of this role involves plenty of time on the tools, and you will have the opportunity to extend into more creative and strategic work, alongside the four directors. Our client is looking for an experienced design professional with passion and dedication to their trade to take the reins and own this area of the business.
While you are ideally a seasoned professional, our client is open to an accomplished senior designer who is ready to transition into a more ambitious position. You will have an amazing portfolio and at least 6-8 years agency experience. You will also have a love for process, which will be critical to managing the multiple clients and projects.
Role Responsibilities
General: 
Optimise the effectiveness of studio resources by ensuring all creative and design briefs from account services flow efficiently to the design team
Create and maintain detailed studio schedules and set deadlines for various stages of a project

 

Monitor projects and workloads, communicating and adjusting deadlines and resource accordingly
Maintain and preserve the design studio organisation system to uphold efficiencies
Drive studio profitability by strengthening agency processes, quality of outputs and client relationships
Provide accurate estimates on design/creative hours to incorporate into a project budget
Direct, manage and lead designers across multiple disciplines and categories of work (POS, identity design, print collateral, small to large scale format signage, ppt presentations, spatial 3D environments, video, web, and motion graphics)
Help to develop the overall creative reputation and design studio credentials

 

Champion and be a gatekeeper for the brand and identity across client responses, website, cred documents and social media
Clients: 
Develop and implement a plan to diversify their studio offering with existing and/or new clients in areas that complement and expand on our core competencies
Present and debate creative ideas and solutions to meet client briefs
Take responsibility for quality control of all studio work
Ensure client budgets are adhered to and agency margins are optimised

 

Produce work that will be recognized by industry peers for its effectiveness and creativity
Alongside the directors, lead the creative offering and contribute to major client pitches.

 

Collaborate with Account Service teams to ensure we have the appropriate briefs and information for the creative process to flourish

 

Develop new initiatives through extensive, up-to-date knowledge of creative and industry trends. Share with the wider team
People: 
Mentor and develop the skills and competencies of the studio team to meet the holistic needs of their clients and the wider business

 

Lead, mentor, motivate and manage team members to ensure job responsibilities and legal obligations are met

 

Set clear, high, and achievable standards of performance, covering targets, quality of output, timeliness of delivery, commercial sensibility, use of resources, etc

 

Manage studio workflow, including creative timeframes and forecasts for the business
Review and ensure all creative work is signed-off pre-production

 

Ensure a high standard of creative excellence is maintained across all work produced by the studio

 

Effectively manage all junior design resource
Key Attributes:
Well-rounded portfolio across a mix of design disciplines (must know how to work with large format artwork)
Competent across Adobe Suite (Sketchup is a bonus)
Highly motivated with superb organisation and time management skills
Process driven with the ability to implement and drive new systems

 

Keen eye for detail and a strong focus on quality

   

Ability to lead from the front and inspire others
Problem solver who thinks laterally
Collaborative team player
Excellent people management skills, you will know how to effectively interpret and communicate requests and assignments from clients to designers
If you are looking for an agency role, where you can bring your prior leadership skills and experience in a similar environment, and you are a design driven diamond and this sounds like an opportunity too good to miss, we want to hear from you.  
Send your CV and work to Hana Chadwick at The Creative Store, email hana@thecreativestore.co.nz or call The Creative Store on (09) 365 1077 for further details.
Visit The Creative Store website www.thecreativestore.co.nz to view all our jobs online.