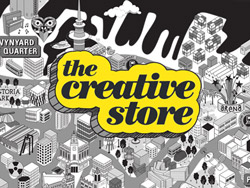 We are looking for a multidisciplinary creative who will be responsible for leading our client' design team in this full-service creative and marketing agency, located in Wellington.
This is a dynamic role in a fast-paced agency where you will oversee and implement various forms of design outputs for the diverse client base, ensuring they are fit-for-purpose and on-brand. You will take ownership of design strategies and manage design projects from beginning to end, ensuring design efforts meet both customers' needs and business goals.
You will oversee and implement web design, branding projects, advertising, and social media assets, print design and digital design. Work will vary from same day briefs to long-tail projects. You know Adobe Creative Cloud like the back of your hand and are comfortable creating in the major no-code web platforms.
You are someone who can capably traverse the scale between minutia and big picture. You are intimate with the end-to-end experience of design objects and how those objects translate into business value for our clients. As a leader you will also help to maximise the potential of the creative teams. You will coach and assist junior team members, with a capability to identify an individual's strengths and weaknesses – helping them grow and bringing out the best in the creative department.
Key to your success in this role will be your great people skills. You will be working on a mix of independent and team projects so we are looking for someone who is comfortable with both modes of working. You are confident, diplomatic and a keen learner (no matter the stage of your career). We don't care if you have a plethora of qualifications, or if you are entirely self-taught. You will have a track-record of compelling case studies that demonstrate your discerning creative eye and project management chops. The proof is in the pudding.
Key Responsibilities:
Communications and Client Relationships
Participate in client meetings
Lead internal team briefing sessions
Write reverse briefs for clients and contribute to project proposals, both content and design
Project Management:
Working with Director(s) to scope projects; including time estimates, labour allocation and team members
Map out project plans in the Project Management platform (Asana), including project milestones, due dates, task assignees, priorities, and design workflow
File management including back-up of working files, maintaining tidy folder and file structures, and exporting and managing client delivery assets
Design:
Format project proposals
Develop art direction for advertising campaigns
Create social media and digital advertising assets
Design OOH art including billboards, billstickers, and bus backs
Design digital and print publications (including document design)
Create website wireframes and flat designs
Design no-code websites
Develop brand identities and produce style guides
Creative Mediums:
Web Design
Figma / XD
Squarespace
EditorX
Webflow
Shopify
Digital & Print:
Graphic design
Illustration
Animation
About You:
Proficiency in the Adobe Creative Cloud including Illustrator, InDesign and Photoshop with experience working with Premiere Pro and After Effects
An ability to multitask creative projects and flexibility to work in an ever-changing environment
Excellent creative skills and a great eye for detail
Strong communications skills – you love to grow relationships and work as a team
Great time management skills – you can be relied upon to deliver on time and to budget
This role is a brilliant opportunity to join one of Wellington's design studios and develop your design career with an incredibly talented team. Please apply with your latest CV and portfolio.
Send your CV to Hana Chadwick at The Creative Store, email hana@thecreativestore.co.nz, or call The Creative Store on (09) 365 1077 for more details.
Visit The Creative Store website www.thecreativestore.co.nz to view all our jobs online.