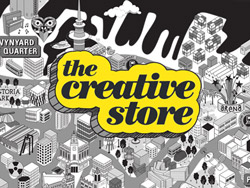 Have you been looking to share your smarts with one of New Zealand's top telco providers? 
Our client is looking for a superstar digital copywriter to join their team in a contract capacity. 
They are currently going through a full website redesign, your primary focus will be the revision of content for the new website. Other tasks will include supporting the inhouse digital copywriter on other BAU projects as required. 
You will be fast, accurate, able to write to order with limited revisions, and easily able to find the tone of voice of this personality driven brand.  Experience with writing for SEO is essential. Prior experience in writing for consumer brands and/or telcos is preferred. 
This is ASAP start – with the office closed for 2 weeks over Christmas, this will run through until late Feb/early March.  
If you tick all the boxes and are available immediately – we would love to hear from you.
Send your CV to Ginnaya Turner at The Creative Store, email Ginnaya@thecreativestore.co.nz, or call The Creative Store on (09) 365 1077 for more details.
Visit The Creative Store website www.thecreativestore.co.nz to view all our jobs online.