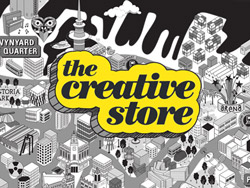 Are you looking for a junior to intermediate level digital designer role, and love to join a successful Auckland based advertising agency? 
This is a great opportunity to join an inspirational creative agency, with a focus on customer retention and loyalty.  They have some big-name clients producing top work.
You will have prior commercial experience, and your skillset will cover the ability to layout marketing material for landing pages, EDMs, display banners and digital assets. You will have the ability to take your work through to finished art, along with the ability to turn your hand to print work when required.  Being confident with your abilities, you can work independently and happily present your own work.
Working closely with the Digital Creative Director and Studio Manager – you will have daily guidance and mentorship when required, and enjoy bring their ideas to life. 
You will be experienced using Adobe CC, and have experience with Google Web Designer, Adobe Animate and possibly After Effects for content, although not essential.
If you are open, approachable, and easy to get on with – and looking for a new challenge – get in touch.
Send your CV and work to Hana Chadwick at The Creative Store, email hana@thecreativestore.co.nz, or call The Creative Store on (09) 365 1077 for more details. Ref: 26219.
Visit The Creative Store website www.thecreativestore.co.nz to view all our jobs online.