LONDON, Today: The new book from a founder of top UK creative agency Lucky Generals, Andy Nairn – a world-leading brand strategist – is now available as a paperback in New Zealand ($35.80).
Nairn told M+AD: "The book is all about the role of luck in building a brand and for an extra bit of karma I'm giving all the royalties to an organisation that helps working class kids get a lucky break into the ad industry.
"This a series of thought-provoking strategies that will help anyone responsible for building a brand.
"Luck is a four-letter-word in business circles. But the truth is that fortune plays a part in every success story – and every failure."
Bridget Angear, former joint chief strategy officer at AMV BBDO London, said: "This really is the perfect strategist's handbook, with great examples, anecdotes, quotes, facts and advice."
---
"All royalties help working-class kids get a lucky break into the creative industries."
---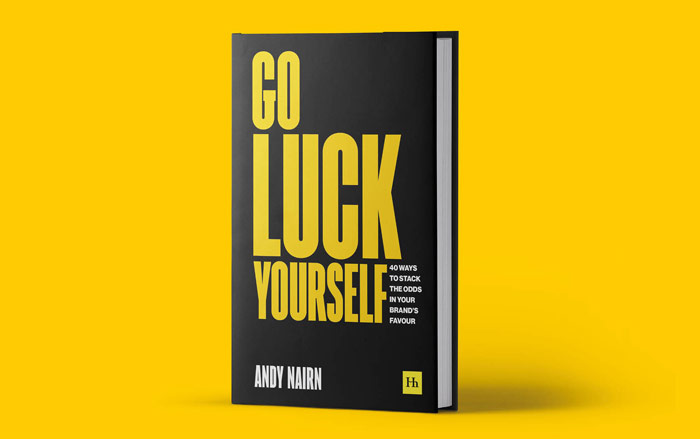 Nairn said: "Let's face it, we could all do with a bit of luck right now. But if there's one thing Western business leaders won't mention, it's that particular four-letter word.
"After almost 30 years working in advertising, this has always struck me as odd. I mean, I understand the traditional squeamishness: by attributing anything to luck, we worry that we're dismissing more important qualities like talent and hard work. But I bet we've all worked on projects when all three were present, so why can't we just admit that?
"Well, last year, I set out to explore this taboo and ended up writing a book on the subject with all the royalties going to an organisation that helps working-class kids get a lucky break into the creative industries.
It draws on the latest science to show that fortune isn't some shadowy, superstitious force that we should look down on. Instead, it's something we can actively manage, in a way that stacks the odds in our favour.
"For instance, there are now many studies that show individuals are more likely to succeed when they consciously appreciate what they've got. I believe the same holds true for organizations. All too often, companies overlook priceless assets that are sitting right under their noses: like their brand's name, heritage, provenance, visual identity, owned media or customer data. So a lot of the time, our job as agencies is simply to help them realise how lucky they are to have such treasures – and to embrace them more mindfully.
---
"This really is the perfect strategist's handbook."
---
"Likewise, there's a long list of discoveries showing the importance of serendipity – that's when you stumble over something valuable, while doing something else. This kind of luck is particularly frowned upon in marketing (we're supposed to work logically, from start to finish, and 'not just post-rationalise' good ideas).
"But in my experience, breakthroughs often come from unexpected sources, that are unrelated to the brief or even to work. What's more, these happy accidents don't have to happen by accident – we can deliberately increase our chances of having them, by filling our lives with diverse stimuli, like music, art, sport, history and science.
"Then there's also a lot of data on the importance of resilience, for human happiness. Again, I reckon this applies to organizations too. In fact, I've noticed that the most successful companies don't just deal well with misfortune when it occurs – they actively go looking for it because they see it as a potential source of good luck. Some of the greatest campaigns of all time came out of a crisis, flaw, time pressure, budget constraint, complaint or mis-step. So while conventional marketing teaches us to avoid such perils, maybe we should run towards them?
"The point is that luck is too important – and precious – to be left to chance. Or worse still, to be denied under the mantra that 'There's no such thing as luck. The harder you work, the luckier you'll get'. This is true up to a point but beyond that, opportunistic thinking will get you further than just slogging away. And make for a more fun journey too.
"So what are you waiting for? Go luck yourself."
---