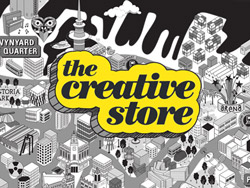 This is the perfect step up role for an intermediate designer, looking for a great Auckland central city agency, where you will work across a wide variety of creative solutions.
You will be at the stage where you are ready to push your career; and will bring with you a great set of technical abilities, have an excellent eye for detail and enjoy working across a variety and range of creative briefs.
Our client is looking for design flair – from concept to completion, you will be a collaborator brimming with ideas. You will be able to articulate your design thinking into excellent crafted work.
We would like to see your industry experience across corporate communications, branding, POS, through to digital design. 
Culture fit is key, you will enjoy office banter, be cheerful, enjoy a laugh and love to ask questions.
If you have agency experience and are ready to progress your career, this is the design job for you.
Send your CV and work to Hana Chadwick at The Creative Store, email hana@thecreativestore.co.nz or call The Creative Store on (09) 365 1077 for more details. Ref: 24861.
Visit The Creative Store website www.thecreativestore.co.nz to view all our jobs online.