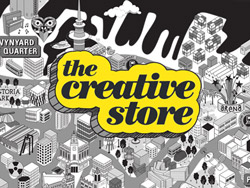 Have you been waiting for a junior level Copywriter role, and would love to work at one of Auckland's best advertising agencies?
Our client is looking for a junior level Copywriter to join an Art Director, working on a large range of well-known clients. This is a role where you will refine and deploy the craft of great copywriting. You will have a highly competent understanding of copywriting, knowing when to embellish and when to be concise with language; how to best write to the tone of the brand and know how to deploy your craft correctly, ensuring best impact across channels.
You are responsible for all the written elements of the work, directing the tone and language of work from ideation to presentation, production, and finally to consumers.
At the junior level you are still learning—that never stops, however you should be more than capable of deploying the craft of great writing to a world-class standard, with support from your CD. You know how to bring work to life through the tone of the brand and in a way that is sympathetic to the idea, and you know how to deliver ideas in ways that work for each unique channel. 
Working with an Art Director, together coming up with great ideas for the brands. You should be prolific when it comes to generating ideas. You don't overly self-edit. You are not afraid of your ideas being "wrong" or "crazy" – finding these boundaries is the best way to develop the art of concepting.
Who Do I Work With?
Inside the building you will work directly with CDs, ECDs, other teams, planners, producers, digital collaborators, and the account teams. Outside the building you will work directly with the production partners, producers, photographers, directors, illustrators, and others. 
You may begin to develop client relationships and present some of your own work. You will work hard to earn the love and trust of your team and your regular clients.
What Are My Responsibilities?
Contribute ideas. Hear ideas. Ask questions. It's the fastest way to learn what your peers are looking for in great work
Understand the brief, ask questions, make sure you have all the information before starting a job
Over-communicate, asks lots of questions, so there are no surprises
Prepare idea boards. You will do a lot of these. We all do. If you need help to understand the best way to present an idea, ask your CD or ECD before starting
Presentations – you will present to clients and building key relationships
Working with the broader team to help prepare work to be sold. This could include helping your CDs ideate, craft, package, and produce big campaigns
Production. This is where your mad skills will shine. With support it is your job to ensure that the execution of an idea lives up to the original vision. Budget should not be an excuse it should be seen as an opportunity for innovation. If an idea is great, it can be a great execution, as long as the execution is sympathetic to the idea
Keep ahead of the creative industry. What's new? What's changing? How could new technology be used to help our brands communicate? It's your job to become a student of the industry and know the history of creativity as well as you know the latest industry defining work
If you are a smart writer looking for a big Auckland based agency environment, where you can win awards and influence people – get in touch.
Send your CV and work to Hana Chadwick at The Creative Store, email hana@thecreativestore.co.nz, or call The Creative Store on (09) 365 1077 for more details.
Visit The Creative Store website www.thecreativestore.co.nz to view all our jobs online.