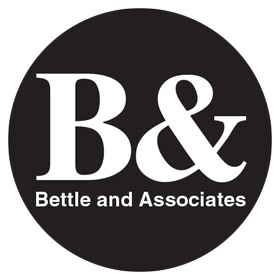 Time to escape?
Bettle & Associates – Waikato's leading brand, marketing and advertising agency – is looking to appoint a new Media Director.
If you're based in Auckland, you may be thinking about new opportunities that balance your career with a new lifestyle. Our architecture-award-winning offices are centrally located in Hamilton's finest CBD enclave, with soul-calming views over the mighty Waikato river. Our people live in Hamilton, Raglan and Cambridge – making the most of the area's growth and enviable lifestyle.
We want an experienced, senior media planner who is looking to continue their career as (or is ready to step up into) a media director position to lead the agency's media operation across a range of local, national and global clients.
You'll be working with a lean, nimble team of independently minded creative and marketing professionals, on clients like Fonterra, Farm Source, Challenge Fuel, Gorilla, Mt Ruapehu, and many more including our global DeLaval team.
The primary function of the Media Director is to work closely with all agency clients and partners to plan and execute media campaigns, ensuring that exceptional service is delivered to our clients. You will be working with agency directors, account service and creative leads to continue to offer exceptional outcomes for our growing client list. This will include receiving and responding to all client briefs and requests, running all client campaigns, coordinating internal teams, planning, and buying media activity and optimising and analysing campaigns to inform future activity.
We want people who have the energy to further develop the agency's media team and capabilities, and the get-things-done attitude that keeps our team moving.
Key responsibilities for the role include:
Plan and buy media across a range of channels, both online and offline.
Deliver and leverage audience and market insights
Building strong media supplier and partner relationships to develop smart media campaigns for clients
Managing all campaign workflow, ensuring all tasks are completed and accurate reporting delivered on time
Financial management of all media activities, with an eye on business unit performance
Working with agency processes and tools such as Nielsen and Pegasus
Applicants must be proficient in Facebook and Google Ads (Display, Video, Search, Shopping), Google Analytics and Google Tag Manager.
Please note we will only consider applications from people who possess the above stated skills and experience, are living in New Zealand, and legally allowed to work here.
For more information please contact Simone at simone@bettle.co.nz
---