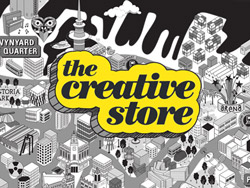 Our client is a globally recognised and award-winning advertising agency who create original and compelling content for their clients. They are looking for an outstanding Print Production Manager to join their production department.
This is a great opportunity to join a big-name agency, working getting all print collateral over the line and printed form concept to creation.
You will ensure that each production brief is clear and understood, that it includes all the requirements to complete the production of each job. You will communicate with Business Management on the quoting and timing requirements of each job and with all suppliers to submit production quotes. These quotes will include all timing, samples, and processes of the job. 
You will trouble shoot with the Business Manager/Mac Operator/Suppliers to offer solutions on the production of jobs when required as well as communicating with those involved on the confirmation/changes of costs/delivery/etc on jobs when required.
You will attend the press passes when required, attend client service wips meetings and keep the processes running smoothly.
Our client is ultimately looking for someone with a working knowledge of current market practices in the agency production process. You will bring a minimum of 3 years' experience in print, studio, or agency production. You have excellent attention to detail, the ability to act on your own initiative with good communication skills and the ability to develops strong relationships.
Bring your production skills to this amazing advertising agency.
Send your CV and work to Hana Chadwick at The Creative Store, email hana@thecreativestore.co.nz, or call The Creative Store on (09) 365 1077 for more details.
Visit The Creative Store website www.thecreativestore.co.nz to view all our jobs online.