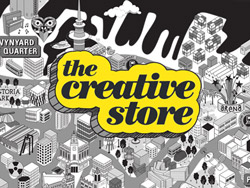 Do you currently work in recruitment, or keen to make the move to the recruitment side?
Come work for us – we are an independent recruitment agency, who specialise in creative and digital industry roles. A team of dedicated recruiters, in a fun, relaxed environment located at the City Works Depot, central Auckland city. We work across two brands The Creative Store and The Digital Store.
We are looking for a new full-time permanent consultant to join our team. This role will work across the recruitment in the digital space – working across the placement of freelance, contract and permanent roles for all level developers. You don't need to come armed with digital experience, however you should have a healthy interest in tech.
You will have the task of growing our digital offering to current and new clients – you will be confident and proactive with client management and creating new business. Working across both New Zealand and Australian clients and jobs.
You will ensure The Creative Store candidates and clients are being well looked after, you will have a positive, happy personality, be a natural helper and a genuine people person – able to really engage with people on a one to one. Empathy and listening skills are a must.
Looking after the permanent, contract and freelance assignments, you will be excellent at multi-tasking, and importantly – enjoy helping and assisting clients as quickly and smoothly as possible. 
You will be that perfect blend of logical and creative. Confident and articulate, you won't hesitate to pick up the phone and talk to the clients and candidates, building up our brand, and growing the service we offer. You will get out and about to meet and greet clients, driving new business.
If you have the natural drive to achieve, we would love to hear from you.
Send your cv to Louise Lawton at The Creative Store – louise@thecreativestore.co.nz or you can call Louise on (09) 365 1077. Ref: 21373
Visit The Creative Store website www.thecreativestore.co.nz to view all our jobs online.
">