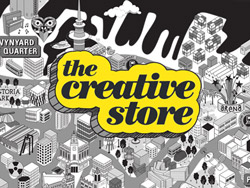 Our client is a UK based integrated creative agency, part of a global network who have set up a team in New Zealand to service some high profile clients in the US and APAC. 
This is a fast-paced account, tasked with creating a wide and diverse range of global, omnichannel, through-the-line content and creative for two of the world's biggest brands.
This is a key role in the new New Zealand-based team, you will have 5+ years' experience to work in an integrated capacity across multiple B2B workstreams. The ideal candidate will be comfortable driving high-value, multi-channel story-led projects from initial briefing to final delivery. The candidate must have experience working with global brands, and be comfortable managing internal teams and communicating with clients. 
A candidate with a can-do attitude, enthusiasm, and the ability to thrive under pressure is a must.
The role will be responsible for all aspects of a project's life cycle, including but not limited to the creation and maintenance of accurate project plans; risk and issue management; presenting client status reports; accurate scoping and estimating and ensuring resources are allocated appropriately in accordance with the project plan. 
A key part of the role is effective problem-solving, in order to ensure the appropriate resources are in place and that the work is within approved scope and budget whilst exceeding the clients' expectations.
Due to the multiple time zones, you will need to be flexible with hours of work. Your core team is Auckland based, working remotely. This is a contract role untill the end of 2021, with expectation this will continue to roll into the New Year. 
This is a rare opportunity to work on two of the biggest brands in the world. Jump on it! 
Send your CV to Ginnaya Turner at The Creative Store, email Ginnaya@thecreativestore.co.nz, or call The Creative Store on (09) 365 1077 for more details.
Visit The Creative Store website www.thecreativestore.co.nz to view all our jobs online.