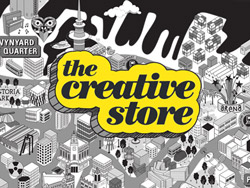 Our client is a next generation advertising agency using a collaborative approach between our data science, creative, media and tech teams to challenge the norms in the industry. They are after a Senior Business Development Manager to drive growth in the business. 
With the support of an inhouse developer, a set of world class business development tools – your role will be to hunt new business, successfully taking them from the point of first meeting to working with an Account Director to onboard them. 
With a hunter mentality and proven experience in business development roles within the sector, you will have a solid set of skills to pitch to and onboard clients. You will be comfortable leading client workshops, and understand how to more effectively feed the workflow through the agency. 
This is a small team of mostly smart seniors, who put people at the absolute heart of what they do. They pride themselves on only working with the best of the best, people who love a challenge, with an unrelenting action for detail and customer satisfaction. 
If you are keen to be an integral part of the exponential growth of a bright new agency, we would love to review your cv.
Send your CV to Ginnaya Turner at The Creative Store, email Ginnaya@thecreativestore.co.nz, or call The Creative Store on (09) 365 1077 for more details.
Visit The Creative Store website www.thecreativestore.co.nz to view all our jobs online.