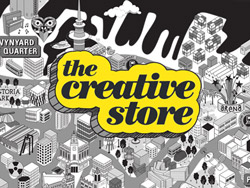 Based within central Auckland, our client is looking for a superstar Senior Business Manager to join their team for a 5 month contract. 
Working solely on one key client in the telco sector, this role reports into the Manager Partner, and bridges the divide between the creative and media teams to solve the clients' business problems and protecting the integrity of the creative solutions. 
A proven Client Manager and Project Mmanager, you will provide seamless management and protection of the agency's work, working with the client, creative and production teams to take solutions to market with ninja-like efficiency. 
This is a small yet highly effective team with a focus on growth, in one of NZ's most highly regarded agencies. This is a fantastic opportunity to make your mark at a renowned, award winning agency – apply now.
Send your CV to Ginnaya Turner at The Creative Store, email Ginnaya@thecreativestore.co.nz, or call The Creative Store on (09) 365 1077 for more details.
Visit The Creative Store website www.thecreativestore.co.nz to view all our jobs online.