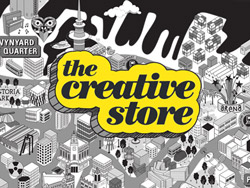 Are you a Senior Designer looking to step up to Design Director level?
Would you love to work in a small, yet strategic FMCG packaging design studio?  Join this excellent agency who work across brand, strategy and FMCG packaging and be the 2IC to the Creative Director.
This role is for a design leader, who is self-assured with their design abilities and leadership skills. 
Working with this indie design studio at their central Auckland location – you will be a positive person, along with the perfect mix of logical and creative qualities.
In this role you will support the Creative Director who works remotely and run the design team in Auckland, and work alongside their management team.  You will have experience with or be happy to step up and lead the studio team, working on creative pitches and client presentations.
You will be a confident and articulate presenter – happy to be client facing and an enthusiastic participant in key meetings.
If you have a formidable FMCG packaging portfolio and keen to step up and get more involved in strategy – this is the job for you.
Send your CV and work to Hana Chadwick at The Creative Store, email hana@thecreativestore.co.nz or call The Creative Store on (09) 365 1077 for more details. Ref: 23410.
Visit The Creative Store website www.thecreativestore.co.nz to view all our jobs online.