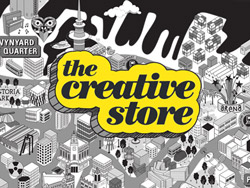 Are you a Studio Manager with a cool head, great organisational skills and still experienced on the tools, where you are happy to jump in and help with briefs when required? 
In this role you will actively participate in production and sales meetings, and work closely with the wider team – the directors and management, to produce artwork files and print requirements.
Managing the studio team of three, you have proven experience leading teams and managing workflow, you can inspire and lead the team to be efficient and have them running like a well-oiled machine. 
You will mentor and grow the team, pitch and present work to clients and be the creative lead in the team. You can delegate work; you are a strong leader and looking to bring your skills to the role. You know your stuff when it comes to design and print production. You like responsibility and organisation and you are motivated by delivering innovative solutions that meet the needs of your clients. 
If you have a great attitude, are thorough, ready to learn and get involved in all areas of the business and looking for a North Shore based role – this might just be the perfect job for you.
Send your CV and work to Hana Chadwick at The Creative Store, email hana@thecreativestore.co.nz or call The Creative Store on (09) 365 1077 for further details.
Visit The Creative Store website www.thecreativestore.co.nz to view all our jobs online.