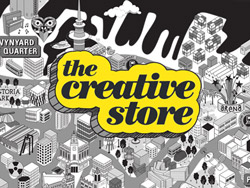 Would you like to join a growing team at the forefront of ecommerce based in Newmarket, Auckland?
You will be a design all-rounder, who has at least 1 + years' experience, with some serious skills producing web banners in HTML and quickly turning your hand to EDM's and digital marketing assets.
Being confident across digital, this will reflect in your ability to design and build banners in HTML. You will be a perfectionist – spending that extra time to ensure your design is bang on. Working across the digital assets, you will instinctively know what works, looks great and is functional.
You will be up to date with the latest design trends, be keen to extend yourself with new design techniques, and applying this across a variety of work – a champion for pushing creative boundaries.
There will be plenty of career growth opportunities for you when you join this team.
Send your CV and work to Hana Chadwick at The Creative Store, email hana@thecreativestore.co.nz, or call The Creative Store on (09) 365 1077 for more details. Ref: 25973.
Visit The Creative Store website www.thecreativestore.co.nz to view all our jobs online.