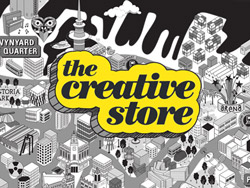 This is a great 6-month contract opportunity for a senior level UI / UX Design lead to join this reputable telco company based in Newmarket, Auckland on a 6-month assignment starting February 2020.  
You will be a solid agency or inhouse experienced digital design lead, capable of running the digital assets, updates and working on the digital transformation project working on the website. You will have some UX chops and bring with you the ability to apply best practice principals within the UX framework.
You will have at least 5+ years' experience and be skilled across Adobe CC, Sketch and Invision. You will have prior experience leading teams and inspiring your people.
This is a great opportunity to work with a fantastic award-winning inhouse team, whilst gaining exposure to corporate structure, process and big projects.
If this digital role has your name on it – apply now!
Send your CV and work to Hana Chadwick at The Creative Store, email hana@thecreativestore.co.nz, or call The Creative Store on (09) 365 1077 for more details. Ref: 24945.
Visit The Creative Store website www.thecreativestore.co.nz to view all our jobs online.