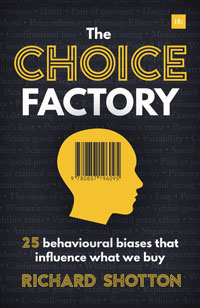 "This book is a Haynes Manual for understanding consumer behaviour. You should buy a copy – and then buy another copy to give to one of the 97% of people in marketing who are too young to remember what a bloody Haynes Manual is!"
Thus spake Ogilvy One UK ECD Rory Sutherland, reviewing Richard Shotton's new book, The Choice Factory.
Shotton is deputy head of evidence at Manning Gottlieb OMD London. He started his career as a media planner 17 years ago, working on accounts such as Coke, before moving into research.
"My book is about how findings from behavioural science can be applied to advertising," he told M+AD.
"It has lots of practical advice for brands and it has been positively reviewed by the likes of Rory Sutherland, Bob Hoffman, Mark Ritson and Dave Trott, so I think it'll be relevant to M + AD readers."
---
"Richard Shotton possesses a melodious and balanced voice. In this short but powerful tome you can learn about how marketing actually does influence consumers."
---
The reviewers said:
Campaign columnist Dave Trott: Most books in this area are academic and dry as dust. If you want to know how research and sociology can impact on real life in the real world, Richard's book will show you – using simple words and examples that real people can understand."
Marketing Week columnist Mark Ritson: "A cacophony of overstatement. Richard Shotton possesses a melodious and balanced voice. In this short but powerful tome you can learn about how marketing actually does influence consumers."
Saatchi London chairman Richard Huntinton: "Comprehensive, compelling and immensely practical, The Choice Factory brings the building blocks of behaviour change together in one place."
Born Liars author Ian Leslie: "This is a delightful anatomy of the biased brain that will help you understand and influence consumer decisions – including your own. –Ian Leslie, author of 'Born Liars and Curious'
Campaign ed Dominic Mills: "Richard Shotton's application of behavioural economics is bang on the button. This book is timely, insightful, fascinating and entertaining."
The Choice Factory will be published in paperback by Harriman House on February 12 (£10.49/NZ$20.29). Buy it here
---