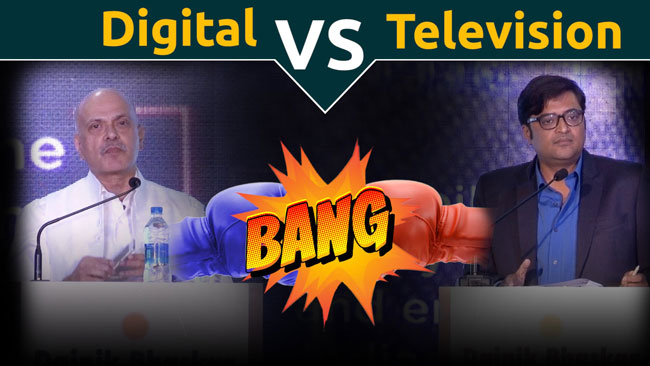 Digital's share of total media global spend is predicted to reach 37.6% in 2018, versus 35.9% for television, according to a new DAN report.
Based on data received from 59 markets across the Americas, Asia-Pacific, Europe, Middle East and Africa, Dentsu Aegis Network's Ad Spend Forecasts – June 2017 point to a more cautious economic outlook in 2017 than the previous year, with global adspend growth falling from 4.8% to 3.8%.
However, conditions are set to improve in 2018 with forecast growth in ad spend of 4.3%. Events will play a key role in 2018, with events such as the Winter Olympics and Paralympics in South Korea, the FIFA World Cup in Russia and the US Congressional elections all expected to stimulate adspend growth.
Despite concerns about the economic impact of Britain's decision to leave the European Union, UK adspend growth held up better than expected in 2016 at 6.1%. While there are signs of caution in 2017, with growth dipping to 4%, 2018 is forecast to see growth bounce back to 5.9%.
A similar picture unfolds in the United States, where a slowdown to 3.6% is forecast for 2017, followed by a slight improvement in 2018 to 4.0%. The US also remains the largest market in the world, accounting for 37.7% of global advertising spend in 2017.
Advertising spend in emerging markets continues to outpace developed economies. For example, adspend growth in India is forecast to grow at 13% in 2017, while China is the second largest market in the world by share of advertising spend—remaining the only emerging economy to feature in the top five largest ad markets.
---
"We are reaching a tipping point in adspend as digital overtakes TV, mobile overtakes desktop and paid search overtakes print."
---
Mobile and digital become the new default settings
The forecasts show how digital technology continues to disrupt and drive innovation in the way brands connect with their consumers. In 2017, forecast is that advertising spend on mobile will overtake desktop, reaching 56% in terms of share of global digital advertising spend.
In 2018, mobile adspend will grow further to account for a total of US$116.1 billion. With smartphone subscriptions set to reach 4 billion by 2025 and about a third of consumers reporting that their smartphone is their primary source of entertainment, this trend will continue to strengthen.
Furthermore, in 2018 digital will be the top media in terms of global share of spend, taking over television for the first time. Digital's share of total media spend is predicted to reach a 37.6% share in 2018 (up from 34.8% in 2017), versus 35.9% for television (down from 37.1% in 2017), amounting to a total value of US$215.8 billion.
Reflecting the continued disruption by digital technology of the print media industry, Paid Search (advertising within the sponsored listings of a search engine) is forecast to overtake traditional print media (newspapers and magazines) in 2018. Print media has been on a downward trajectory for some years now, but will likely fall to a 13.8% share of total spend in 2018 (down from 15.1% in 2017) while paid search is forecast to grow to 14.6%, up from 13.6% in 2017.
---
"Another medium that is driving growth is ambient – at over 15%."
---
Video, social and programmatic power innovation and growth
While digital adspend is growing rapidly and set to overtake television, within digital there are a number of new sources of growth that point to the future of advertising. For example, in 2017, online video is set to grow by 32.4%; social by 28.9%; and programmatic (i.e. automated ad buying) by 25.4%.
Looking ahead, brands will need to embrace the potential of disruptive technologies such as virtual reality, artificial intelligence and voice activation. However, research suggests that only 8% of brands currently intend to use virtual reality for advertising purposes.
Commenting on the latest adspend forecasts, DAN ceo Jerry Buhlmann said, "We are reaching a tipping point in adspend now as digital overtakes television, mobile overtakes desktop and paid search overtakes print.
"Digital and data must now be the default settings for advertisers. Evolving to people-based marketing rather than audience-based marketing and using data to increase addressability is essential for brands to manage tighter conditions in 2017 while positioning themselves for future growth.
---
"At the same time, the challenge for brands is to ensure that they are ready to embrace the potential of new innovation. As technologies such as virtual reality and voice activation become more prominent, brands must ensure that they remain relevant by creating new value for their consumers."
Carat India MD Kartik Iyer said, "India continues to be amongst the few countries seeing growth rates in double digits. While this may be slightly lower than past expectations owing to various market drivers like demonetisation and GST, the growth is clearly expected to continue.
"Driving this growth is digital with a growth rate of over 35% which is far in excess of that seen by other more traditional media. And with digital quickly progressing on its path of becoming the go-to media for entertainment, this trend is also expected to continue.''
Other media like TV and cinema are expected to grow at around 12% while Radio and OOH should see a growth of 10% and Newspapers around 8%.
"Another medium that is driving growth is that of ambient – at over 15% growth rates," Iver said. "Considering the changing retail environment, the medium, in tandem with digital is becoming pivotal for delivering quality engagement with consumers."
---