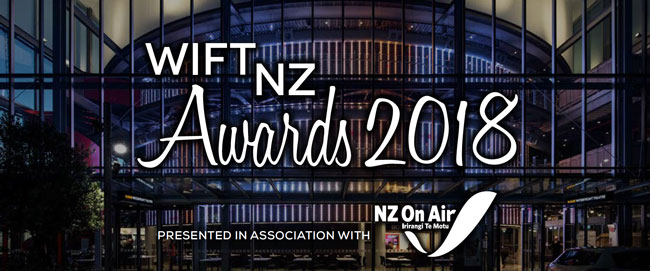 The NZ Women in Film & TV organisation has announced the WIFT 2018 finalists for eight award categories, as selected by the judging panel of Christina Milligan (chair), Robin Laing, Vicki Jackways, Jill Macnab, Christina Asher, Alyx Duncan, and Cass Avery.
The winners will be announced at an awards party on Thursday 1 March in Auckland's new ASB Waterfront Theatre.
The finalists are:
Fulcrum Media Finance Woman to Watch Award: Briar March, Casey Zilbert, Nicola Peeperkorn.
Images & Sound Award for Success in Television and Digital: Donna Malane and Paula Boock, Julia Parnell, Kate McDermott, Maxine Fleming.
Imagezone Entrepreneurship Award: Aliesha Staples (Staples VR), Libby Hakaraia (Māoriland Charitable Trust), Sharon Menzies (Fulcrum Media Finance).
Professional Lighting Services Award for Unsung Heroine of the NZ Screen Industry: Esther Cahill-Chiaroni, Louise Baker, Nerida Cath.
The Queenstown Camera Company Craft Award*: Dayna Grant (stuntwoman), Ginny Loane (DOP), Kirsten Green (1st assistant camera).
South Pacific Pictures Award for Achievement in Film: Kirsty Cameron for Jean and The Rehearsal, Miranda Harcourt for Lion, Zoe McIntosh for The World in Your Window.
Te Puni Kōkiri Te Reo Māori Champion Award: Maramena Roderick, Tweedie Waititi, Wena Harawira.
The Weta Group Creative Technology Award*: Amy Barber (sound designer), Clare Burlinson (colourist), Irena Dol (editor).
*The Queenstown Camera Company Craft Award and The Weta Group Creative Technology Award are both new this year and celebrate the increased numbers of women working in the technical specialities.
Last but not least …
The judges determined that there should be only one finalist and winner (to be announced at the awards ceremony) for the Great Southern Film & Television Award for Outstanding Contribution to the New Zealand Screen Industry
---