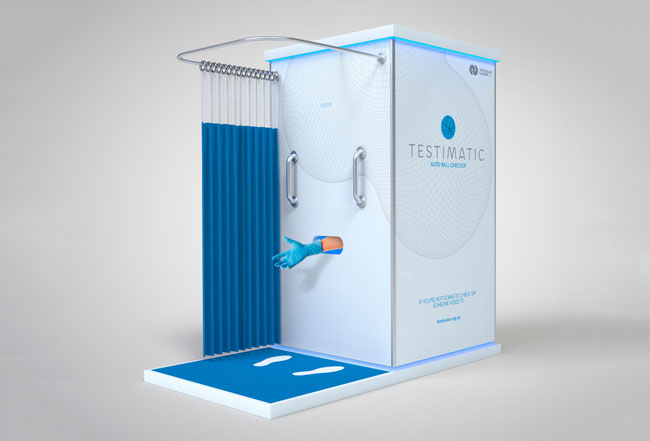 AUCKLAND, Tuesday: FCB and Testicular Cancer New Zealand have unveiled the Testimatic, the world's first "auto ball checker" that is causing a stir across the globe.
The device allows men to have their testicles checked for irregularities and lumps without the awkwardness of being face-to-face with a doctor.
Men step up to the Testimatic, pull the curtain, drop their pants and wait for a urologist or GP to reach through a small opening to check their testicles. The whole process only takes 30 seconds.
Launched alongside fast cars, BBQs and speedboats at the NZ's Big Boys Toys, the Testimatic was a fine hands-on activation to grab mens' attention. Over the course of the expo, over 170 men got their testicles checked.
FCB ECD Tony Clewett said: "The aim was to come up with a concept that was quirky enough to work as a conversation starter with men, giving us the opportunity to explain the importance of men self-checking regularly.
"We then used the uniqueness of the Testimatic to gain the attention of media. Journalists from overseas were even calling, to find out if the machine was legitimate. This gave us the opportunity to spread our messaging worldwide."
The Testimatic story achieved coverage across key New Zealand media outlets including Seven Sharp, The Project, The AM Show, NZ Herald, Stuff and several radio stations. Global media hits included, Metro UK, Guardian Australia and UK, the BBC and ABC news shows.
---
"The device allows men to have their testicles checked without the awkwardness of being face-to-face with a doctor."
---
Testicular cancer is the most common cancer affecting New Zealand men aged between 15-39 and is one of the most treatable cancers if detected early, with a survival rate of 95%.
Despite this, Testicular Cancer NZ ceo Graeme Woodside says most Kiwi men aren't self-checking regularly.
"We see the Testimatic as a great way to get men thinking about a serious health concern," Woodside said. "The message we're trying to spread is that you don't actually need to go to your doctor, you can check your own testicles and make it part of a monthly routine, for example in the shower.
"If there's anything you're concerned about, don't wait, go and see your GP."
The Testimatic will be popping up at events, festivals and shows around New Zealand, hoping to reach as many Kiwi men as possible and encouraging them to make self-checking their testicles a monthly routine.
About FCB
With more than 140 years of communications expertise, FCB's worldwide network spans 150 offices in 90 countries, with over 8000 people, and is part of the Interpublic Group of Companies (NYSE:IPG).
About Testicular Cancer New Zealand
Testicular Cancer New Zealand has two main objectives:
To educate people about testicular cancer and encourage awareness of the disease
To support men, and their families, who are going through diagnosis and treatment.
The organisation is connected to the Prostate Cancer Foundation of New Zealand, the main charity in New Zealand working in the area of male-specific cancers.
---