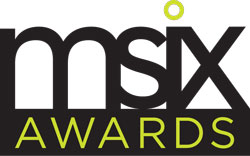 The MSIX Conference and Awards are back giving attendees the chance to spend a day with those leading the charge in the practice of marketing science. MSIX (Marketing Science Ideas Xchange) has become Australasia's leading conference exploring the marketing and behavioural sciences, and how they are applied by businesses.
The conference and awards night will be held in Sydney late November.
Mumbrella's MSIX is a collaboration with Australia's top consumer psychologist Adam Ferrier and will focus on the emerging discipline of behaviour change along with the wider aspects of marketing as a science.
MSIX is a day of interactive learning, lectures, workshops, demonstrations and quiz's. The application of marketing sciences cuts across research, branding, creativity and ideas and behaviour change programs. Highlights include a deep dive into why reality TV is a most effective tool for behaviour, as well as a scientific understanding of why Donald Trump is most likely to be elected President.
Early bird tickets are on sale until Thursday, October 13. Conference tickets include access to the MSIX Awards later that evening.
MSIX CONFERENCE
Thursday, November 24, 2016
Pumphouse Museum, Sydney
The MSIX Awards will directly follow the conference. The awards celebrate those who are closing the gap between the marketing sciences and real world applications, and sets the gold standard for marketing sciences work, honouring Australia and New Zealand's best in class.
Entries are still open for advertisers, agencies, media, and research companies on both sides of the Tasman to submit one or more campaigns for consideration.
---