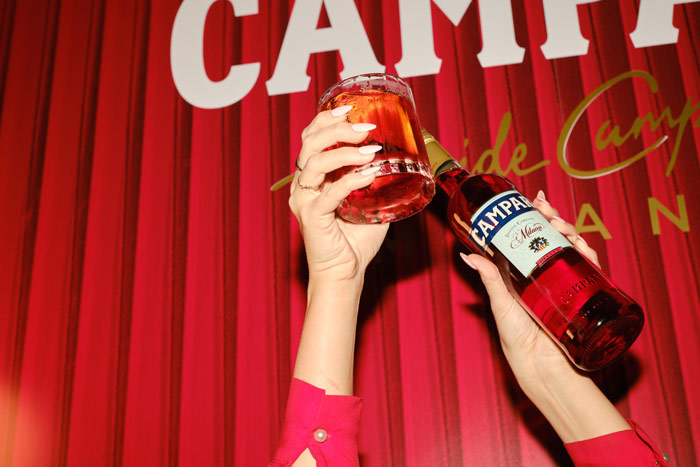 AUCKLAND, Thursday: Independent boutique communications agency Campbell+Co is working with Campari NZ to bring the iconic Italian aperitif to life via a celebration of all things Campari at QT Auckland.
The agency developed a range of Campari touchpoints throughout QT Auckland's Rooftop Bar, where Campari is being celebrated throughout September until the end of October.
They also helped Campari launch international Negroni Week at a curated event, with invited guests saying Saluti to Negroni Week on Monday night, with free-flowing bitter and twisted cocktails and Italian canapes at the stunning venue. 
Campbell+Co director Vinny Sherry said: "An amazing night was had by all, with familiar faces reconnecting and new friendships formed amongst the eclectic crowd of sophisticated taste-makers.
QT really turned it on – and the Campari team's impeccable hosting ensured this Monday night was one to remember.
"The expert QT bartenders put all preconceived Negroni notions in the past, with a whole gallery of twisted libations on offer.
---
"A Negroni will always be a go-to anywhere around the world, and you can't beat it as a sundowner at Rooftop at QT."
---
"DJ Abeiku was on the decks spinning a Negroni-inspired set and Sam Jones was on the sax. Campari's global charity partner, Slow Food, was also toasted and their work to ensure everyone has access to good, clean and fair food."
Campari NZ MD Brad Madigan said, "Celebrating the iconic Campari Negroni at QT Auckland brings to life the sophistication and allure of the famous spirit.
"Purveyors of good taste are set to enjoy delicious one-of-a-kind cocktails featuring Campari, including the classic Negroni, at the stunning QT Rooftop Bar.
"This is our first official launch event of Negroni Week in New Zealand, and we look forward to celebrating with both existing fans, and those new to the amazing sophistication of Campari, over the coming weeks."
QT Auckland GM Doron Whaite said, "A Negroni will always be a go-to of mine, anytime, anywhere around the world, however you can't beat it as a sundowner at Rooftop at QT.
"I'm really excited for QT Auckland to be part of the global celebration that is Negroni week, and celebrating one of my favourite drinks across September and October."
"The special menu curated to celebrate Campari at the Rooftop Bar is available until the end of October. Guests are transported to the House of Campari, where bitter and twisted never tasted so good. Sunday blues will also be banished with The Sunday Club sessions offering Campari specials and $2 oysters.
About Campbell+Co
A communications agency that works with entrepreneurs and marketers to help them build their brands, through smart PR, Digital and Experiential marketing.
About The Negroni
It was around the year 1919 in Florence when Count Camillo Negroni contemplated ordering an Americano cocktail but decided it was time for a change. He requested it with a touch of gin instead of soda, inspired by his last trip to London and its prevalent gin scene.
The bartender was pleased to honour Count Camillo Negroni's request and added an orange garnish rather than the lemon wedge of the Americano to signify the new drink he had created.
The Negroni is now one of the most famous contemporary classic cocktails. Anywhere you go in the world, you will find a mixologist who can make you the iconic Negroni. The original recipe, the perfectly balanced combination of equal parts of Campari, Red Vermouth and London Dry gin, is almost a century old and continues to be enjoyed today. The International Bartenders Association (IBA) lists Campari as an official ingredient of the Negroni, and thus, there is no Negroni without Campari!
About Slow Food
The official giving partner for the second year, Slow Food is a global movement of local communities and activists, across more than 160 countries. Just like Campari and the Negroni, Slow Food has Italian roots, creating the perfect pairing.

CREDITS
Client: Thirsty Camel
Senior Brand Manager: Sonia Kumar
Customer Activation Executive: Hannah Jensen
Creative Agency: Campbell + Co
Production Companies: Cube and Made by South
---