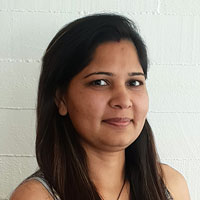 AUCKLAND, Today: Leading customer intelligence agency Perceptive has appointed Sangeeta Kaydan to the role of senior software developer in NZ.
Responsible for bringing Perceptive's clients programming visions to life, Kaydan will be applying her skills across the full development stack at the agency.
With over a decade of software development experience, with the majority of that gained in Singapore, Kayden's most recent role with Monetary Authority of Singapore saw her providing end-to-end project management that involved a mix of software development, data integration, and technical documentation.
"I'm thrilled to be joining the team at Perceptive," she says. "I'm passionate about new technologies, new ideas and new ways of thinking. The growing team here are doing exceptional work and I'm looking forward to contributing to that work and sharing the knowledge I have gained in my career so far to serve the Perceptive business."
---
"Sangeeta's experience in scripting language and documentation process will be a huge asset."
---
The new appointment is based on the continued success and growth that Perceptive has experienced over the past 12 months.
Perceptive head of development Karin Marais said: "Sangeeta's experience in scripting language and documentation process is a huge asset to the team. She is a flexible thinker and creative problem solver.
"Above all, she pays strong attention to quality and time delivery on a project level, which will provide even better results for our clients."
Kaydan's appointment at the Perceptive office in Rosedale, Auckland is effective immediately.
About Perceptive
Perceptive is Australasia's leading technology-based customer insights agency. Perceptive provides research, insights and data-driven marketing programmes to a variety of organisations across the Asia-Pacific, North America, United Kingdom, United Arab Emirates and India.
---