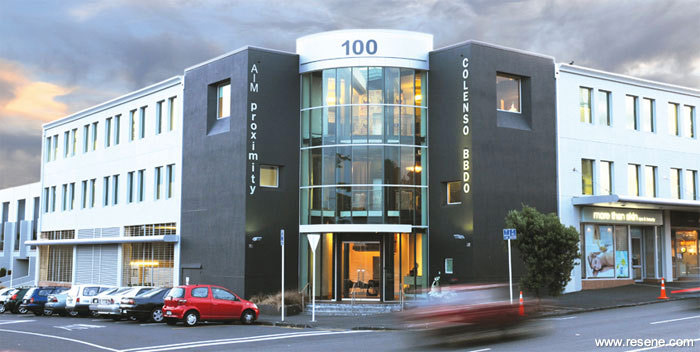 AUCKLAND, Today: Clemenger Group's Auckland-based agencies will be housed at one flagship site from May 2023. Its three-story, 100 College Hill office space, which Clemenger Group has occupied since 1994, will undergo a refurbishment over the next nine months, ready to welcome agency teams moving from its other primary Auckland site at 318 Richmond Road.
Clemenger Group NZ ceo Strahan Wallis said: "The new-look 100 College Hill, will reflect the unique values and independence held by each agency, while firmly preparing the 2200 sqm space for the future of work.
"The move follows the Group's expansion into additional street-level space at 1/100 College Hill earlier this year, which added occupancy at the same address, while supporting the company's growth, and carbon-reduction programme.
"This is an exciting opportunity to make considerable strides against our sustainability goals, while putting our people and unique ways of working at the heart of our building.
"We want to provide an inspiring destination that retains individual agency culture and independence and strengthens the internationally recognised work we do.
---
"This move will reduce our carbon emissions by approximately 20 tonnes."
---
"While our agencies are sustainably growing year on year, the office has a new purpose – to provide an inspiring destination that strengthens cultural connection, learning and bonding with co-workers and clients, and to foster creativity and innovation.
"We have calculated this move will reduce our carbon emissions by approximately 20 tonnes – a significant saving and part of our ongoing commitment to improving sustainability across all of our operations."
Clemenger Group NZ has leased its site at 318 Richmond Road for 14 years for a variety of agencies. The space currently supports Proximity, Perceptive, Raydar and Brandworld. 100 College Hill currently houses Colenso, Porter Novelli, Levo and Hearts & Science (an Omnicom Media Group agency).
This is phase one of a two-phase property strategy where the group will review its lease at 100 College Hill in several years' time.
Clemenger Group produces its own electricity from College Hill with commercial solar panels which have been operating for a number of years.
About Clemenger Group New Zealand
Clemenger Group NZ is a leading group of specialist communications companies in advertising, marketing, PR and research. Agencies include Colenso BBDO, Clemenger BBDO, BrandWorld, Perceptive, Porter Novelli, Raydar, Levo, GRC Partners and Proximity New Zealand.
---