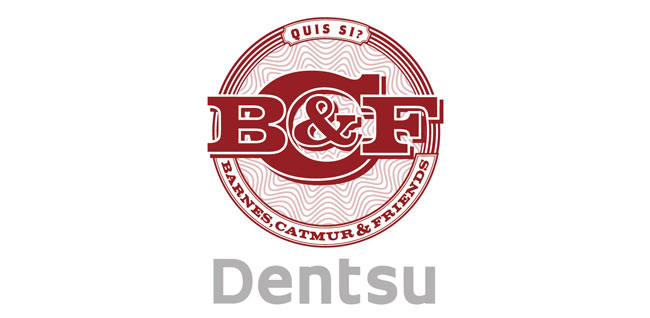 M+AD has learned – via an avalanche of tip-off emails from readers – that Dentsu Aegis network paid NZ2.5 million for its majority stake in former Auckland indie agency Barnes Catmur & Friends (now Barnes Catmur & Friends Dentsu).
So thanks Ben Goodale, Jon Coles et al – and a special thanks to NBR reporter Chelsea Armitage, who pointed us in the direction of Aegis Media's latest financials.
Here's the main points of the NBR coverage:
The deal was finalised in February.
It includes further bonuses and an increased stake dependent on BC&FD's trading performance.
Dentsu Aegis Network chief executive Rob Harvey says acquiring BC&F was "about a 12-month process ("I scoped the market but BC&F's culture and values aligned best with Dentsu Aegis," says DAN ceo Rob Harvey). "We're integrating them, not absorbing them."
DAN operates a number of media brands from its Auckland offices, including Carat, Vizeum, Synergy and Haystac PR. BC&F is its first creative agency in New Zealand.
Messrs Barnes & Catmur now own 19.5% of the business each.
There was no change to the agency's leadership team, which comprises of founders Daniel Barnes and Paul Catmur alongside general manager Luke Farmer, as a result of the acquisition. "We don't want to change anything," Harvey said.
Harvey says he has had conversations with "several agency heads who are worried we are going to target their business". ASB Bank's media account is held by Dentsu Aegis' largest media agency, Carat, while its creative account is with Saatchi & Saatchi.
The NBR report had said BC&F does not have a bank on its client list, "sparking speculation it may try to entice ASB, in line with the network's integrated approach".
"We want to open opportunities across the group but targeting other agencies' business is not our intention," Harvey said. "In saying that, our model is to work integrated across our agencies."
Barnes, Catmur & Friends was named the world's fifth most effective agency by the Effie Effectiveness Index last year.
---