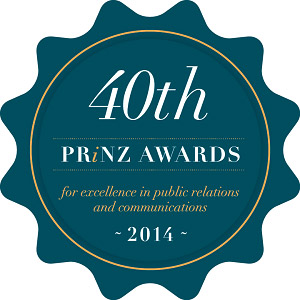 PRINZ (the Public Relations Institute) has unveiled 20 finalists in its 40th annual industry awards. The list includes AUT, Westpac, Unitec, Fonterra, Whitaker Group, Stronger Christchurch, Auckland Council, FCB PR & Activation, Convergence, PPR, Porter Novelli, Strategic Lighting, Canterbury University, NZTA, McDonald's.
Winners in each category are now judged by a Supreme judging panel and the overall Supreme Award determined. Category winners and the Supreme Award winner will be revealed at the PRINZ Awards Gala Dinner in Auckland on Thursday 29 May during the annual PRINZ conference.
Winners in any category are then eligible to enter the global Comm Prix Awards organised by the Global Alliance for Public Relations & Communication Management. Last year two PRINZ Award winners went on to receive inaugural Comm Prix Awards.
The ANZ New Zealand Corporate Affairs team won a Comm Prix for its 'Corporate' project successfully merging the National and ANZ brands and the NZ Transport Agency won a Comm Prix for its Manawatu Gorge 'Issues, Crisis and Emergency Management' project.
The 2014 awards attracted 57 entries from the corporate, consultancy, not-for-profit and government sectors.
40th PRINZ Awards finalists 2014
(in alphabetical order by entry title)
Auckland's Most Noteworthy Teacher  – Anna Johnstone, Caroline Leeming, Zureena Habib, Alexandra Harman, AUT University
"Banking on the new ANZ" – the post ANZ and The National Bank merger communications strategy and plan – Peter Parussini and the ANZ Corporate Affairs Team, ANZ
Bringing our people together – Warren Rosser, Susan Rockliffe and Lauren Lau, Westpac NZ Ltd
Celebrating Pride – Deepti Bhargava, Paul Weeks, Bev Armstrong, Darren Horsman and Claire McCarthy, Unitec Institute of Technology
Connecting employees to mission and purpose: turning boring into bring it on! – Amanda Schaake, for Fonterra
Givealittle by the Telecom Foundation, the Growth of Zero Fees Fundraising in New Zealand – Courtney Bennett, Telecom New Zealand, Lee Hales and Georgia Moselen-Sloog, Whitaker Group
Going Digital – Dan Walraven, Dan Ormond and Sam Halstead, Ideas Shop
Mercy by Moonlight – Sharon Walls, Mercy Ships
Safer Speed Summer – Ross Henderson, Kathryn Fitzpatrick, Karen Jones and Campbell Moore, New Zealand Police
Setting a new benchmark for post-disaster recovery communication – Annemarie Mora and Norma Kloosterman, Stronger Christchurch Infrastructure Rebuild Team (SCIRT)
Shake, rattle and roll: Responding to the 2013 Central North Island earthquakes – Megan Wiltshire and Emily Davies, Bank of New Zealand (BNZ)
Shaping Auckland's future – enhanced engagement on the Auckland Unitary Plan – Oliver Roberts, Auckland Council
Sony: Message in a bottle – Alisha Thomas, Angela Spain and Georgia Boyce, FCB PR and Activation
Splore's sustainability message changes audience behaviour – Suzanne McNamara, Convergence
The Fiji Airways mid-air wedding campaign – Kristie Penwarden, Professional Public Relations NZ
Tui Plumbers Go Global – Joanna James, Natasha Gillooly and Strahan Wallis, Porter Novelli NZ
Turning the spotlight onto LED road lighting: Road Lighting 2014, 11-12 March, Auckland – Crystal Beavis, Strategic Lighting Partners Ltd
UC Futures – John MacDonald, Durning Public Relations, Stacey Doornenbal and Jayne Austin, University of Canterbury
Sally Logan-Milne Young Practitioner of the Year finalists
Cindy Bangs – NZ Transport Agency
Erin Roberts – McDonald's Restaurants New Zealand Ltd