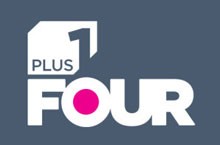 MediaWorks has launched the 'plus one' version of FOUR on the Freeview and Sky platforms. The new channel is an exact duplicate of FOUR, broadcast an hour later, and is available on Freeview channel 9 and Sky channel 512.
FOUR Plus 1 began broadcasting on Freeview Satellite and Sky at 10am today (Thursday). The channel has been available on the FreeviewHD service since June 26.
"With FOUR Plus 1 now added to the existing TV3 Plus 1 channel and the 3NOW Video On Demand service, our viewers have more options for watching their favourite TV3 and FOUR shows than ever before," said MediaWorks TV ceo Paul Maher.
"It's part of our commitment to provide more choice and flexibility for viewers, and increased reach for advertisers."
Plus one channels significantly increase overall audience share, locally and internationally, Maher said. In the three weeks since FOUR Plus 1 launched on FreeviewHD, it has contributed 4% of FOUR's total primetime share of the 18-49 audience.
---