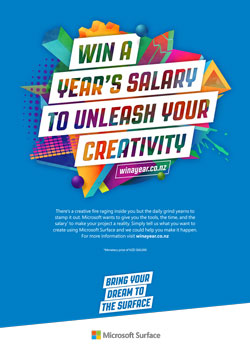 Y&R NZ has launched a new campaign for Microsoft NZ, aimed at everyday Kiwis going about their 9am-5pm day as normal, but perhaps harbouring a secret creative passion.
The . Bring your Dream to the Surface campaign encourages New Zealanders to reveal their creative ideas for a chance to win a new Microsoft Surface Book and a year's salary*.
The campaign was based on an insight that lots of Kiwis are creative in their own way, that may not be fulfilled in their everyday routine. Microsoft Surface wants to be the tool behind empowering that creativity, and letting Kiwi creativity flourish.
The winner's passion could be anything at all – from film to design, music to arts and crafts – the sky is the limit. All you need to do to enter is submit what your creative idea involves and the person with the best creative idea (as judged by a panel) will receive a Surface device and a year's salary*, to "take the year off and go and follow that dream".
"Microsoft will be advertising for this campaign in the most creative way possible," said Microsoft NZ product marketing manager Jordanna Murray. "Think resignation letters in vertical media, real job advertisements, OOH as well as print, digital, social."
No worries, I've attached another couple of print executions and below is a link to one of the job ads, and the microsite. I've also had an updated the creds doc come through.

CREDITS
Microsoft
Chief Marketing & Operations Officer: Frazer Scott
Marketing Communications Manager: Andrew Turley
Windows and Surface Product Marketing Manager: Jordanna Murray
Y&R
Chief Creative Officer: Josh Moore
Creative Directors: Tom Paine, Guy Denniston, Gavin Siakimotu
Art Directors: Megan Dudley and Diana Winter
Copywriter: Tim Gavriel
Managing Director: Steve Kane
Head of Planning: Jono Key
Account Director: Rachael Williams
Head of Digital: Greg Whitham
Digital Producer: Matt Abraham
Head of Studio: Paul Gibson
Designer: James Wendelborn
PR: www.porternovelli.kiwi
---