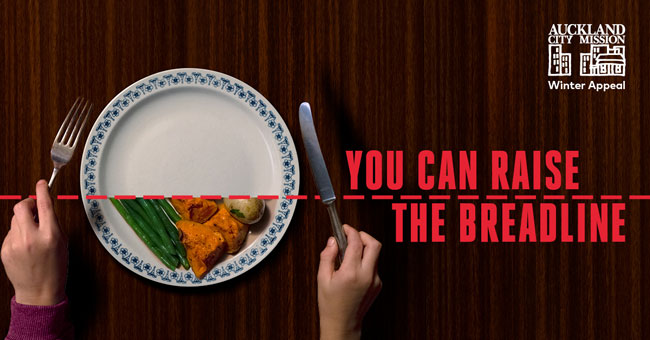 AUCKLAND, Tuesday: 99 helps the Auckland City Mission raise the breadline with their winter appeal. To encourage donations over winter, the Auckland City Mission and 99 have started a new conversation that raises awareness of the growing food crisis in Auckland.
A conversation that breaks down the financial challenges families living below the breadline have to face every day.
99 ED Mick Stalker said: "People are aware that there are a lot of families struggling to get by in this country, particularly among the working poor. But we wanted to help Aucklanders empathise by presenting the subject in a much more understandable way.
"After working with an economist to break down the true cost of living in this city, we found that these families, on average, have only $6.43 to spend on dinner every night. Making a nutritious, well-balanced meal a luxury they can't afford."
---
"Zenith and media partners, the campaign is fully integrated across OOH, bus backs, radio, online and TV."
---
The campaign launched with a TVC that demonstrated how seemingly simple decisions for you can have devastating effects on what families can spend on food. After the cost of living is broken down, it ends with a call to action to raise the breadline for Auckland families.
Thanks to support from Zenith Media and generous media partners, the campaign is fully integrated across OOH, bus backs, radio, online and TV, prompting people to donate and help raise the breadline.
The campaign landing page also breaks down what the harsh financial reality for families living below the breadline looks like, using figures from economist Alan Johnson.
"We don't only work with families around temporary food solutions but also longer-term solutions such as addressing structural causes of poverty which lead to food insecurity.
"Putting food on the table is one thing, but putting nutritious, well-balanced food needed to stay healthy is another.
"I think this is an important, relevant and necessary conversation we should be having, as the largest city in the country, with many working poor. Especially considering the massive increase in demand for food parcels we've seen this year." adds Auckland City Mission ceo Chris Farrelly.

CREDITS
99: Creative & Design departments
ECD: Mick Stalker
Media: Zenith Media
Client/ceo: Chris Farrelly
Leader – Fundraising & Reputation: Tess Shaw
Campaign Manager: Jacqui de Heer: Campaign Manager
General Manager of Social Services: Helen Robinson
---