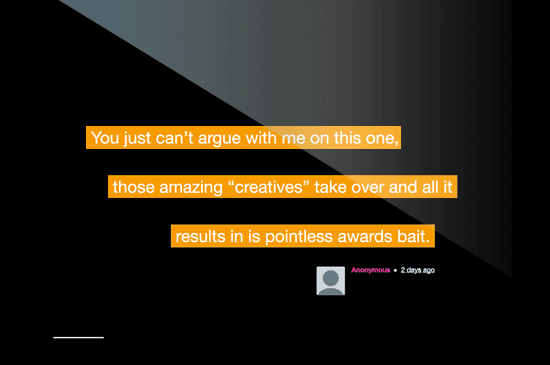 .99's creative campaign for the 2014 Effie Awards seeks to tackle anonymous "trolls" who post disparaging blogs "that undermine others' work". The .99 campaign adopts the view that winning an Effie is the best way to 'Silence Anonymous'.
It comprises a series of executions containing negative 'anonymous comments' based on posts made recently on NZ advertising blogs.
"Cleverly," says .99/justONE managing director Ben Goodale, "the comments are transformed into positive feedback once the unique shape of an Effie trophy is placed over the top, illustrating how successful the ad in question actually was."
Effies are all about demonstrating just how effective your work is, and decisions about whose campaigns are the best are based on results, Goodale says.
"We've all read those nasty blog posts so we thought a campaign that showed how to prove them wrong was a lovely disruptive approach to engage entries this year."
.99 Chief Creative Officer Craig Whitehead said: "Now, perhaps more so than ever, clients demand work that demonstrates exceptional results. We hope our Silence Anonymous campaign to promote the Effie Awards prompts people to enter, celebrate their efforts and lay claim to having done just that.
CAANZ ceo Paul Head agrees. "Anonymous blogs are a part of the phenomenon of blogging, however the mere fact that authors do not need to add their name to their opinions, means spiteful comments are aired that would not otherwise have been written had the author not had the wall of anonymity to hide behind.
"It is time authors stood behind their comments and we hope this campaign from .99 will help to highlight the negativity that this anonymity sometimes brings to our industry."
This campaign will be executed across online, eDM, DM, in-agency posters, and a cover ad on 500 targeted-copies of the latest Marketing Magazine.
For more information, contact Kelly Gilkison: 09 303 0435 or kelly@caanz.co.nz.
To download the Call for Entries document (which includes changes made to this year's entry requirements) and to enter, visit the CAANZ website: www.effie.co.nz.
Effie dates
Entries close: Tuesday 5 August 2014 @ 4pm
48hr deadline closes: Thursday 7th August @ 4pm
Preliminary judging (Auckland):Tuesday 26th August
Preliminary judging (Wellington):Thursday 28th August
Campaign material due (finalists only): Thursday 11th September
Category judging (Auckland): Tuesday 16th September
Finalists announced: Wednesday 17th September
Executive Panel judging: Tuesday 30th September
Effectiveness Function: Wednesday 1st October
Effie Awards Show: Thursday 9 October at The Langham, Auckland
Credits: The 2014 New Zealand Effie Awards are organised by CAANZ in association with TVNZ and ANZA, and sponsors APN NZ Media, Nielsen, and The Radio Bureau with the support of FUZED.
---