Special Group's TSB Bank Perfect Day launch TVC attempts to illustrate the adage that 'time is precious' with an allegory that can only be described as a fairy tale.
The TSB ads feature what appear to be real people – and their time-wasting experiences with other banks – before TSB flies to their rescue with a fantastical offer.
---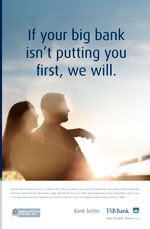 "TSB Bank is a great New Zealand brand who pride themselves on their commitment to the customer," says Special Group senior account director Annabel Rees.
"So we created a campaign that is about showing potential customers what makes TSB Bank different and the exceptional customer service they can expect from TSB Bank."
Along with the 45 launch TVC, a new spot will launch later this month along with radio, digital, and newspaper executions.
The campaign is an evolution of last year's brand work by Special Group that paved the way for TSB Bank's independent challenger stance against the big banks.
---
CREDITS
Special Group
Creative Partners: Tony Bradbourne, Rob Jack
Creative Directors: Maria Ward, Kimberley Ragan
Managing Partner: Michael Redwood
Senior Account Director: Annabel Rees
Account Manager: Milly Hewat
Producer: Nigel Sutton
Strategist: Rahat Chaudry
Production Company: The Sweet Shop
Director: Louis Sutherland
Executive Producer: Fiona King
Producer: Larissa Tiffin
Music & Sound Design: Liquid Studios
Client
National Business Manager, Marketing: Rod Grant
Customer Experience Manager: Brent Woodhead
Senior Marketing Specialist: Belinda Pool
Head of Digital Marketing: Beks Ali
---