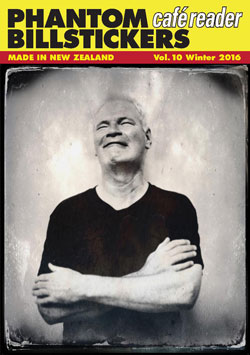 Somebody give Jim Wilson a medal! The owner of Phantom Billstickers has been publishing his quarterly Café Reader – 60-odd A5 pages of startlingly original writing (mainly shortish pieces by Kiwis, leavened with a sprinkling of NZ & American poetry) – since 2013. This project is a true labour of love; there ain't a cent in it!
The Winter 2016 edition has just hit the streets – and we've noticed the number of retailers carrying the title has been escalating. You can now find it in most decent coffee shops and other independent retailers throughout NZ.
This latest contains prose, poetry (and humour) by Roger Shepherd (of Flying Nun fame), author/promoter Garth Cartwright, Buster Stiggs (Counting the Beat drummer), prison inmate Ty TuRupe (a penname), former Garage ed (and Country Calendar director) Richard Langston, singer/songwriter Katy Soljak, and an illuminating piece by Wilson himself, which tells the story of how Phantom was born from the rock-band street poster lifestyle.
"Whenever we went to paste a poster upon a decrepit old wall, invariably somebody would call out, 'Hey! You can't put that there!' That is the theme song of my life," Wilson writes.
M+AD has omitted the names of several other contributors who are less known (to us, anyway) than the others, but no less gifted.
Get your free copy from a coffee shop near you, or ring 0800 PHANTOM for a list of retailers. We got ours from the Ponsonby Snooker Hall (under the Asian Food Hall on Ponsonby Rd).
---