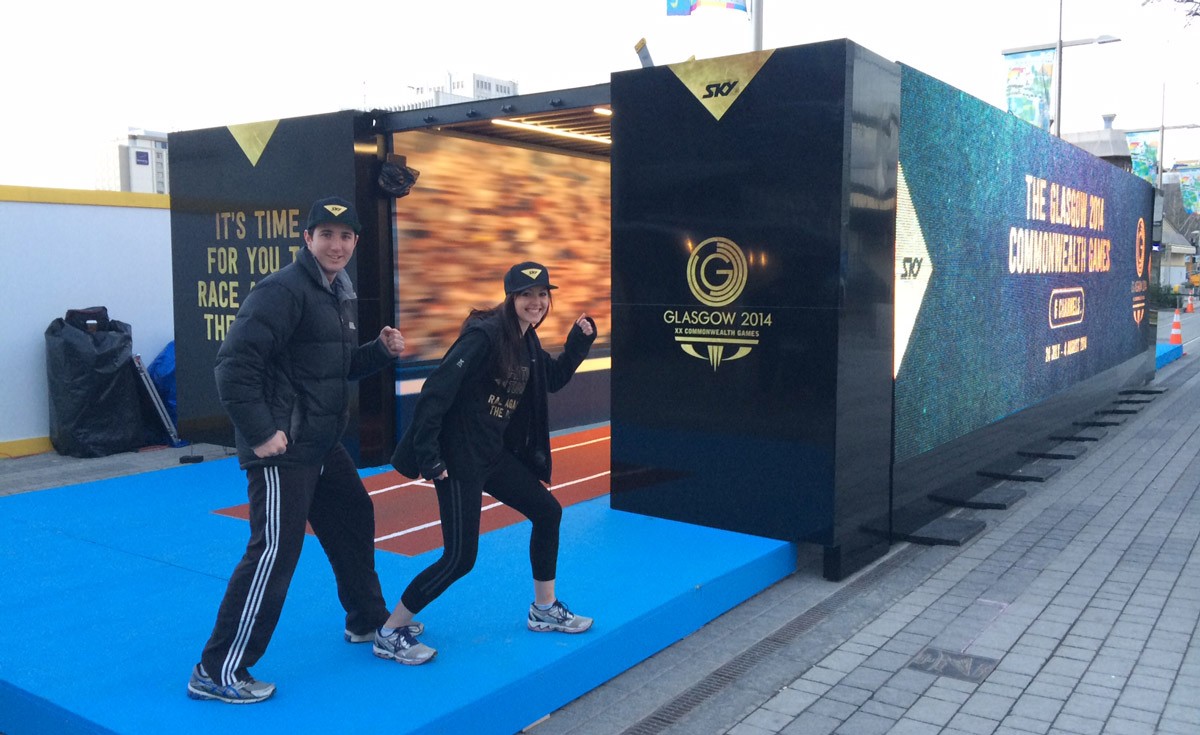 Kiwis' competitive spirit is behind a campaign from Sky TV and DDB that celebrates the Glasgow 2014 Commonwealth Games by giving people the chance to connect with New Zealand's great athletes.
Sky's Time Tunnel activation launched in Christchurch last weekend, and is setting up in Wellington this Friday and will then head to Auckland.
The Time Tunnel allows Kiwis to race against an echelon of former Commonwealth athletes, as well as their mates, in a virtual time tunnel experience during the lead up to the Games which kick-off on six Sky Sport channels from Thursday 24 July.
A bespoke converted container houses a state of the art running track and as members of the public race through the tunnel, their performance is captured using a series of motion sensors and digital cameras.
At the end of the race, their time is calculated over a number of running distances to give them a comparative Commonwealth Games result – and they're instantly able to see where they would have placed at previous Games.
Runners will be encouraged to share the images through Facebook and compare their time against Facebook friends and other runners across New Zealand. A leaderboard displays the fastest times of the day as well as how each city compares against the other.
"It's fantastic to be able to give New Zealanders the opportunity to get excited about the up and coming Games and to see how they compare with our champions," said Sky TV marketing director Mike Watson.
Cantabrians were given the opportunity to test their speed last weekend with hundreds of competitors of all ages taking up the challenge.
The time tunnel experience will run from 9am-6pm at the following locations:
Queens Wharf Square in Wellington from Friday 11 July to Sunday 13 July
Halsey Wharf in Wynyard Quarter in Auckland from Thursday 17 July to Sunday 20 July
The experience is part of a DDB campaign for Sky that tracks the history of New Zealand's involvement in the Commonwealth Games and the races won and records broken over the decades.
The experience has been created off the back of a TVC (see following story) and outdoor campaign that has been in market since early June and will continue leading up to the opening ceremony on 24th July.
Sky TV is the official New Zealand broadcast rights holder and will provide extensive coverage, including six channels of action in HD/SD, as well as news and daily highlights across its digital platforms.
---
---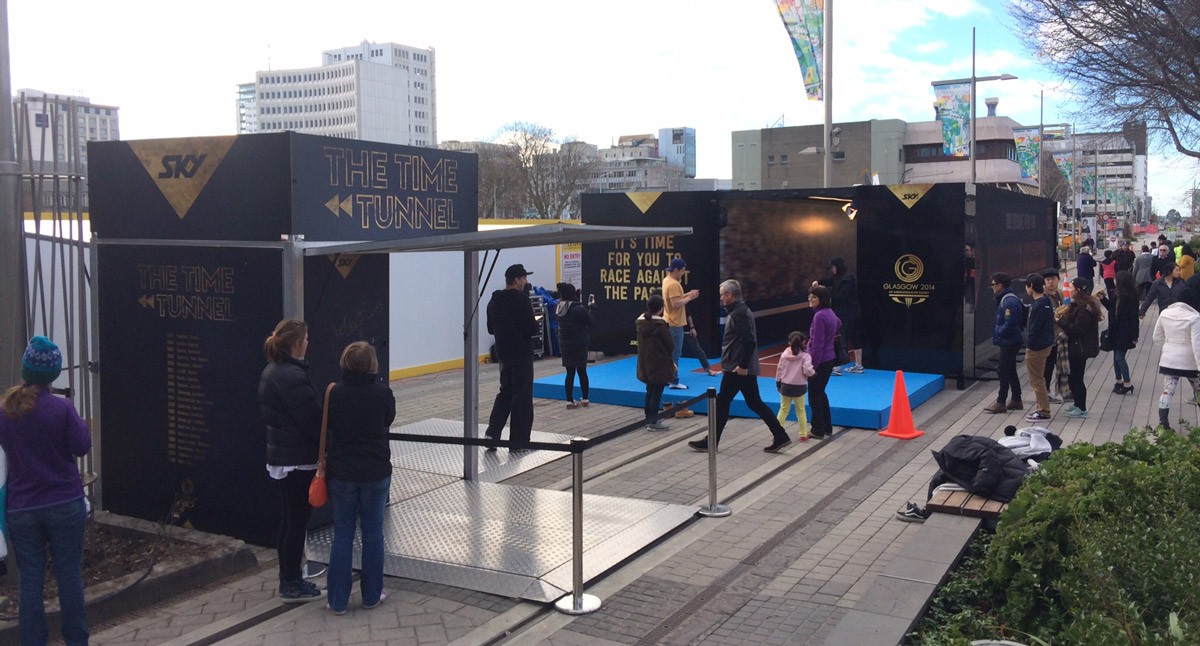 CREDITS
Client: sKY TV
Marketing Director: Mike Watson
Marketing Manager: Aaron Stone
Product Marketing Manager: Amber Cooke
Agency: DDB New Zealand
Executive Creative Director: Shane Bradnick
Creative Director: Chris Schofield
Digital Creative Director: Haydn Kerr
Copy Writer: Tom Cunliff
Art Director: Zac Lancaster
Copy Writer: Ben Pegler
Senior Account Director: James Blair
Senior Account Manager: Georgia Newton
Digital Operations Manager: Liz Knox
Art Director: Ben Barnes
Copy Writer: Matt Webster
Lead Digital Designer: Jason Vertongen
Digital Designer: Jim Pachal
Production Company: Satellite Media
Account Manager: Danica Paki
Project Manager: Rory Garden
Technical Director: Dave Cooper
Head of Activation: Merlin Mills
Software Developer: Matt Visser
Activation and PR: Mango Communications
Account Director: Events: Katie Charlton
---