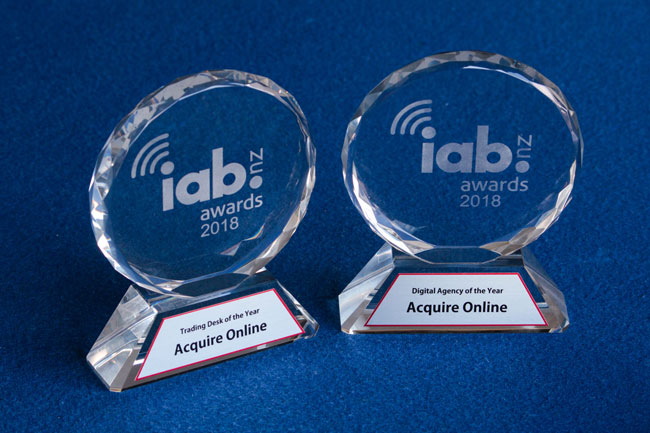 AUCKLAND, Today: Grey Lynn-based agency Acquire Online has won two awards at the annual IABNZ Awards – Digital Agency of the Year and Trading Desk of the Year.
The awards were bestowed last night at 2018 Awards event and included 17 categories in the interactive media field, from Ads Operations to Creative. 
"This is the second time the company has won big at the IABNZ Awards, which is an excellent accolade for the Acquire team, who work tirelessly on getting results for their clients," said Acquire Online MD Chris Schultz in a statement released this morning.
"The focus is remaining at the forefront of digital technology while supporting advertisers in achieving their marketing goals through a unique combination of strategy and customisation of every aspect of client's campaigns," he said.
"The IABNZ Awards has quickly become a benchmark for the digital industry in NZ. Winning these awards required the team to demonstrate innovation in the development and implementation of digital campaigns and to deliver successful campaigns with maximum ROI.
At press time, no other awards results were available.
About Acquire Online
Acquire Online is a large NZ programmatic trading desk. They are specialists in the automated buying and selling of advertising, with a key focus on delivering performance at scale and maximum ROI for our clients. Acquire Online is a Deloitte NZ Fast50 growth company.
---