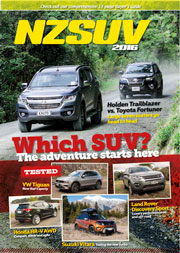 "Adrenalin is joining the fray – with the third new magazine announced in the last week!!" reads the message from publisher Cathy Parker, touting her new title, NZSUV.
NZSUV is being launched initially as an annual spinoff of Adrenalin's existing NZ4WD magazine, and will be distributed with several of Adrenalin's existing titles – NZ4WD, New Zealand Company Vehicle and NZBusiness, giving exposure to private buyers, fleets and business owner managers.
The initial print run is 13,500 copies. It will also be available in print and digital formats for single copy purchase. An associated website www.nzsuv.co.nz has also been launched this week.
Content includes vehicle tests in both video and print format, a comparison shoot-out of two large SUVs and a comprehensive buyer's guide to help potential buyers decide which SUV to buy. Tests are conducted in typical terrain buyers might encounter including ski field access, beaches and back country roads.
"With SUV vehicles now comprising 38% of the new car market we felt there was a need for a single source for buyers to get comprehensive and relevant information about the vehicles they are considering," says publisher Cathy Parker.
"We have been very pleased with the market's response to this initiative," she said.
---