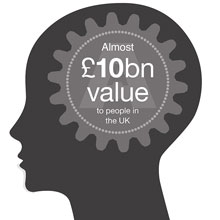 LONDON: Advertising plays a vital role in the UK's media, cultural and sporting arenas, effectively funding them to the tune of almost £5 billion (NZ$10 billion) a year, according to a new report, published in the Warc newsletter.
For Advertising Pays 3, the latest report on the value of advertising, produced by the Advertising Association in association with consulting firm Deloitte, used a survey of 1000 people to establish how much they would be willing to pay for access to services such as commercial free-to-air TV, commercial radio and email.
This found that advertising financed media content which consumers valued at £10bn, compared to the actual funding across newspapers, magazines, TV radio and online services, which received £14.34bn of advertising revenues in 2013.
"Of course businesses advertise to build brands, drive sales and fight the competition – not to fund our media," said Andy Duncan, president of the Advertising Association and CEO of Camelot UK.
"But the unintended consequence of advertising is a massive contribution to the TV we watch, the newspapers we read, the attractions we visit and much more. Without advertising to fund them, it is clear the average UK household would be unable or unwilling to cover the shortfall."
The report estimates, for example, that advertising accounts for around half of the newspaper industry's revenues, implying that prices would have to be twice as high without advertising.
But raising prices could lead to a dramatic fall in circulation, from £91 million a week to as few as £20 million. Similarly, consumer magazine circulation could more than halve in the absence of advertising, while commercial radio could cease to exist.
Among the survey's other findings was that 60% of respondents said their favourite shows were on commercial free-to-air TV.
And the use of digital media is now habitual, with 79% using online search tools every day, 86% email and 54% social media.
Data sourced from MediaTel, Advertising Association; additional content by Warc staff.
More info here
---