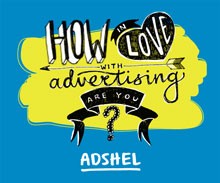 Adshel has created a new trade campaign that aims to entice ad people to take part in a zany 12-question quiz about their love of advertising.
The questions range from the irrelevant (and irreverent) to serious options: Are you one of the few people that don't fast forward commercials?
Of course, it all ties back to the Adshel product, but it does this with wit and eye-catching graphics.
"How in love with advertising are we as an industry?" asks the release that launched the campaign.
"Adshel believes that our industry might be so in love with advertising we are actually missing how real New Zealanders are consuming media.
"Whether we are nuts about newspapers, mad about magazines, have a passion for pre-rolls or are over the moon about outdoor, how much do we know about how we consume advertising? And how do we really compare with the everyday consumers making the majority of purchasing decisions?
Our survey aims to discover if ad land are really influenced by their own consumption habits, rather than how regular New Zealanders consume media in 2014."
Results are delivered immediately, with a quick take on how users stack up against their peers, and the wider public.
"As a key player in the media industry, we can't help but challenge the status quo," said Adshel NZ general manager Nick Vile. "Technology has drastically changed how we consume media, yet the media mix has shown little change in the past 10 years."
The NZ campaign is a follow up to a successful Sydney campaign last year, 'How Agency are you?' which highlighted how insular ad people can become.
This year's campaign "How in Love with Advertising are you?' follows the same format but looks at how consumer media consumption habits have changed.
"It draws insights from the Nielsen Connected Consumer Report as well as local and international research and findings," Vile says.
"The campaign has just run in Australia and we have extended it to NZ late last week."
---