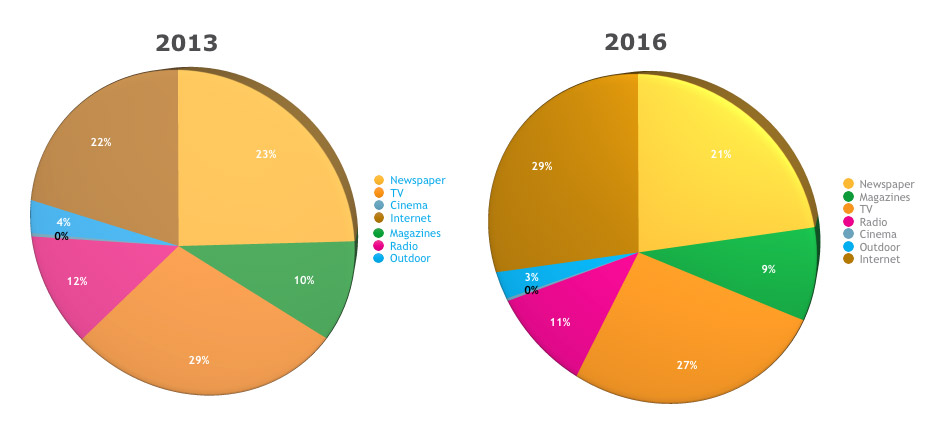 Zenith Optimedia has released its June 2014 Global Ad Expenditure Forecast and it would appear that the general advertising market is in rude health both in NZ and abroad.
The report predicts that global ad expenditure will grow 5.4% in 2014, reaching US$524 billion by the end of the year.
Here's the full release, received this morning from ZO NZ:
With NZ now back at pre-GFC expenditure levels, Zenith Optimedia Auckland predicts that the local market will also continue to grow but at a slightly more modest rate of 3.3%, reaching $2233 million in 2014.
The upcoming elections, the FIFA World Cup and the Commonwealth Games expected to boost the NZ market in 2014.
Advanced Asia 
Apart from Japan, there are five countries in Asia with developed economies and advanced ad markets that ZO have placed in a group called Advanced Asia: Australia, New Zealand, Hong Kong, Singapore and South Korea. Growth here was 2.6% in 2013; they forecast steady improvement from 3.4% growth in 2014 to 4.8% growth in 2016.
ZO Auckland expects NZ growth to be at an increased rate to the Advanced Asia group in 2015, 3.8% ($2,320M), with a lesser rate of 2.2% and an expenditure of $2,372M in 2015.
Advertising expenditure by medium 
Zenith Optimedia recognises that the internet is still the fastest growing global medium by some distance. It grew 17.0% in 2013, and they forecast an average of 16% annual growth for 2014 to 2016. The NZ market shows that we keep pace globally in this field and 17% growth is expected in 2014.
Alex Lawson, Group Business Director at Zenith Optimedia, sees this spend only going one way: "With improvements to the broadband offering, the ongoing rollout of fibre and more people moving to more of a digital content offering through OnDemand services and IPTV providers, we're predicting a further 12% growth in 2015 and 9% growth in 2016," he says.
Sophia Quilian, General Manager, says: "Where globally display is the fastest-growing sub-category, with 21% annual growth, in NZ we are seeing that search has the highest growth rates. We're predicting an increase in search spends in NZ of 26% year on year compared to 13% for display and 5.4% for classified."
ZO also point out that both locally and globally, one of the biggest digital growth drivers of the next two years will be video.
"With upcoming improvements to the Facebook video offerings, more options than ever before with Video ad units, improved broadband speeds and connections, and the proliferation of VOD networks, and a seemingly insatiable appetite by many target audience groups for video content it's hard to see anything except high revenue growth here," Lawson said.
"Globally we're predict 24% growth per year for the next three years and we would expect this to be mirrored, if not exceeded, in NZ."
Online classified has been subdued since the downturn in 2009; after the initial shift from print to digital, classified publishers have had to compete with new paid-for and free alternatives for matching buyers and sellers.  ZO forecast a modest growth of 5.4% in NZ for 2014.
It's here, and it's mobile!
Mobile advertising has now truly taken off and is growing 5.5 times faster globally than desktop internet.
Whilst still in relative infancy in NZ, ZO is expecting to see huge growth in mobile advertising for both 2015 and 2016. Globally we're forecasting mobile advertising to grow by an average of 49% a year between 2013 and 2016, in NZ a 42% increase across mobile for 2014 with rises of 29% & then 60% for the following two years. By contrast desktop advertising is forecast to grow at less than 10% a year.
Mobile is now the main driver of global adspend growth. Zenith Optimedia are forecasting mobile to contribute 38% of all the extra adspend between 2013 and 2016. "We've got a little way to go here before we mirror that impressive contribution" says Quilian, "but it's not far off and we would see mobile as becoming a significant part of display advertising growth considering Kiwi's love of their Smartphones and mobile devices!"
One category that hasn't enjoyed the growth seen in many others is the traditional newspaper. Since it began in the mid-1990s, internet advertising has principally risen at the expense of print.  From the ASA Turnover figures, in 2013 Newspapers recorded a NZ ad spend of $494m with Online snapping at their heels with $471m. To compare, in 2007 print newspapers accounted for $826m and Online only $135m. "We think that locally and globally that this is the year that online overtakes the print newspaper model and doesn't look back" says Quilian "We're also predicting that by 2016 online ad spends will outstrip the traditional TV model and be top of the NZ heap."
It's not all doom and gloom for publishers and TV networks though, as long as they've got a solid digital offering to offset some of that revenue loss with. "Certainly we see spend going to both the news websites and TV stations through their own web and OnDemand offerings" Lawson adds, "But they need to adapt and offer the solutions that both consumer and advertisers demand – and that may mean changing their approaches, attitudes and business models to suit."
Advertising Expenditure Forecasts is published quarterly (price £495) in hard and soft copy from www.zenithoptimedia.co.nz or Zenith Optimedia NZ Group Business Director Alex Lawson at 09 914 6022 or alex.lawson@zenithoptimedia.co.nz.

---