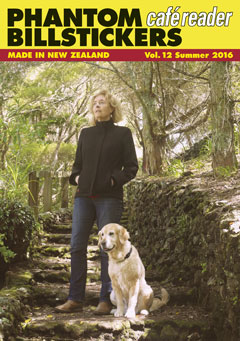 Volume 12 of Phantom Billstickers' Café Reader – the Summer 2016 edition of New Zealand's subversive bible of Kiwi art/music/poetry community – has arrived in town.
The latest quarterly issue (75 full-colour pages) features …
The Wildside Saga, The legendary Murray Cammick's experience of the music industry, and how he started a record label in Godzone.
Photography by Murray Cammick
Lancery, by US poet Alexis Rhone Fancher
The Red Mole Diary 1977-1980, by Neil Hannan
Double page spread of paintings by Robert Scott
An Ode to Hip Hop, by Mark Pirie (about the uptake of hip hop in the early '90s)
Poems by Michael O'Leary, Mike Brosnan, Victor Billot
Poet Michelle Leggott (whose image appears on the cover
Plus new work from Elizabeth Smither, and a Bob Dylan piece by Michael O'Leary.
Café Reader has a circulation of 12,000 copies, and it's free in all cool shops and cafés. Or you can read it online here (click the arrow on the right-hand side of the page).
---