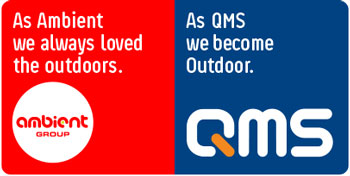 Melbourne-based QMS Media Limited, the parent company of Ambient Group NZ, has announced the rebranding of its NZ arm to QMS NZ. QMS Media owns 75% of Ambient Group (now QMS NZ).
QMS Media Limited is a publicly listed company on the Australian Stock Exchange (ASX: QMS), and is a leading outdoor media company specialising in premium landmark digital and static billboards and street furniture in Australia, billboards and transit media in Indonesia, and Ambient/QMS NZ's fast-growing outdoor digital assets.
The rebranding comes just days after Ambient unveiled a significant deal with Auckland Transport to administer most of its billboard resources in NZ (scroll down for the link).
Effective immediately, Ambient Group will operate its media offerings across outdoor, ambient, and experiential and PR as QMS NZ. "This will enable QMS NZ to deliver premium digital and static outdoor advertising, retail advertising, and ambient advertising as it works with clients to provide the most effective outdoor solutions that engage with their target audiences," said Ambient/QMS NZ ceo Chris Monaghan.
QMS's Melbourne-based ceo Barclay Nettlefold said he is excited by the opportunities for outdoor media in New Zealand. "We have a great team in New Zealand led by Chris Monaghan as ceo. We are committed to growing our presence in the New Zealand market particularly through an expanded inventory of digital outdoor assets.
"We expect the demand for digital to power the out-of-home advertising market in New Zealand as it has in Australia.
"Chris leads a committed and experienced team that we will complement with executive support from Australia as well as new local hires. We are delighted with the recent appointment by Auckland Transport of QMS NZ as its media partner, and look forward to serving Auckland Transport in developing the market leading out-of-home offering in New Zealand."
Chris Monaghan said: "Our partnership with QMS is a clear way forward to become an outdoor force in the New Zealand market. We are now able to leverage the expertise of the fastest growing outdoor company in Australasia, and provide world class digital advertising expertise and technology options to agencies and clients.
"We look forward to working closely with all our stakeholders on a continuing journey, during which we expect to see out-of-home's share of total advertising increase as it has in key markets around the world."
---